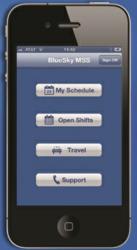 "We believe the functionality of the phone application will move clients closer to a paper-free environment, and allow users to manage their work remotely from any location." - Tim Teague, BlueSky President
Nashville, TN (PRWEB) January 17, 2013
BlueSky Medical Staffing Software has announced the release of a new mobile app. The new app will be available through the iTunes store on Tuesday, January 15, and will be free of charge. The launch of this app will be the first of its kind in the health care staffing industry. The app is also available for Android users and can be downloaded from the BlueSky official website.
BlueSky will offer a rolling release of the app on a first-come, first-serve basis. Account administrators will need to contact the company to have the app set up. Users will be able to view schedules, enter time sheets, clock in/out, view open shifts, contact support, view open travel needs and use all other options currently available with the BlueSky program.
"We believe the functionality of the phone application will move clients closer to a paper-free environment, and allow users to manage their work remotely from any location." - Tim Teague, BlueSky President
BlueSky has been in business for over 10 years and is among the top medical staffing software services available. To learn more about Bluesky, please visit WhatIsBlueSky.com or click here for a demo of the app.