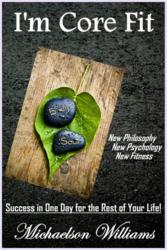 Remember, do your best to help one, who will help 10, who will help 100, who will help 1000 others, who will in turn change a million minds with your first action. Michaelson Williams
Morrisville, North Carolina (PRWEB) January 17, 2013
Michaelson Williams is a longtime fitness consultant and personal trainer and has spent over 20 years developing a new philosophy and psychology about health and fitness. In his new book "I'm Core Fit: Success in One Day for the Rest of Your Life!" Michaelson shares his thoughts and ideas in order to help his clients and others on their journey to better health and fitness.
Michaelson draws from his many years as an experienced personal trainer to find and fix the holes in a very broken healthcare and fitness industry. With his philosophy and psychology of "baby steps" he says the health and fitness success rate should increase exponentially. He aspires to create one of the top fitness books of 2013 and a top fitness blog which will create self awareness in people who want to be in complete control of their own lives.
Michaelson has developed a system of training he refers to as "line of sight" which he employs during virtual training sessions with clients on "I'm CloudFit", his online health and fitness company. Michaelson's clients get to experience "True Anytime, Anywhere", line of sight fitness training over the Internet. Michaelson wrote his fitness books and developed michaelsonwilliams.com a critical thinking website to ensure anyone who comes in contact with his ideas and philosophies have the greatest chance of success on their journey.
Michaelson created his new system of training in order to change the way people think about health and fitness. Michaelson states "there are no 30 day shred programs, 30 day fitness challenges, or fitness quick fixes that will straighten out the problems of obesity in this country or around the world". He says "it's time for people to take control of their own health, fitness, and total longevity".
Michaelson has written multiple books in different genres; all of his books deal with the psychology of the human mind and how people can heal themselves through self awareness and better health. At his website Michaelson Williams: Mentoring in the ways of critical thinking and in his book there are success stories from some of his current and past clientele.