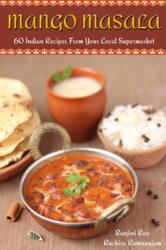 Chicago, IL (PRWEB) January 16, 2013
eBooks2go is an online publishing company based in Chicago, with many eBooks in the categories of fiction, non-fiction, educational and children's literature on its shelves. The company recently ventured into the world of Cook Books with an ethnic-meets-Western fusion cooking eBook by the popular food bloggers of Tadka Pasta, Ranjini Rao & Ruchira Ramanujam.
The eBook became a #1 Bestseller soon after its release and has been selling like hot cakes on Amazon, iTunes and more importantly, the ebooks2go online market place, http://www.ebooks2go.com.
eBooks2go has a dedicated design team that strives to make all their eBooks look good, starting from cover design to the inner formatting. With a successful Cook Book under their wings, the company is all set to take on more and more books in the genre, especially with popular themes like multicultural cuisines and fusion cooking.
The eBook is aptly titled Mango Masala: 60 Indian Recipes From Your Local Supermarket, and as the name suggests, it is all about cooking Indian food using some basic ingredients that the American pantry can afford. The authors have re-done some classic Indian recipes with a Western touch, and the reverse is true as well – they do have some American classics in there too, with a hint of Indianness.
Backed by the popularity of their food blog, Tadka Pasta, the authors have taken their nicely carved out niche – the idea of "breaking cultural barriers through the universality of food" - to a whole new level with their eBook. Given that Indian food has become rather mainstream today, the authors have attempted to bust many myths surrounding Indian food – it's too spicy, it's too complicated - and so on and so forth, with the hope that more and more Westerners would be willing to venture into the kitchen to actually cook Indian food.
The authors claim that while there are several Indian cookbooks around, most of them beginning with the word curry, or Tandoori and go on to show the world recipes beyond those on the Indian culinary map, there aren't too many that focus on making Indian cooking simpler and more likable. The authors also aver that many Indian cookbooks are all about "traditional" and "authentic" Indian cooking – which isn't a bad thing – but it's hardly practical for the new-age kitchen. According to them, in this day and age, tradition is not just what people acquire from past generations, but what they're doing to pass it on to the newer generations. And today's food is as "authentic" as the labels on the local Supermarket produce.
Having lived outside India for years and on many an occasion, in small towns with no immediate access to an Indian store, the authors have had to run their kitchens on a limited supply of out-and-out Indian ingredients. And cooking with the basic ingredients found in local Supermarkets is what the eBook is all about, it's virtually an extension of the authors and their kitchens.
More information about the eBook could be found on the authors' blog:
http://www.tadkapasta.wordpress.com
And on the eBooks2go online marketplace:
http://www.ebooks2go.com/shop/mango-masala-60-indian-recipes-from-your-local-supermarket/