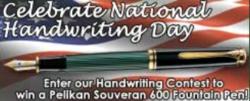 "Throughout history, handwritten documents have sparked love affairs, started wars, established peace, freed slaves, created movements and declared independence."
-The Writing Instrument Manufacturers Association (WIMA)
(PRWEB) January 17, 2013
Handwriting is one of the few ways individuals can uniquely express themselves. Contest participants vying for the coveted Pelikan pen prize are asked to express themselves in their own handwriting by sharing their thoughts on one of these three topics: discuss the merits of handwritten communication versus emailing or texting; write a haiku or short verse about handwriting and/or their favorite writing instrument; or talk someone else into using a fountain pen by expressing why they enjoy it or describing how it feels or changes the appearance of their script.
Many people have depended on the superior quality of Pelikan fountain pens. The Pelikan Souveran 600 Green Fountain Pen's balanced body creates a pleasant writing experience, which can only be outdone by the ornate simplicity of its appearance and beautiful 14k gold two-tone nib. This pen would be a treasured addition to any calligrapher's collection, but is also capable of standing up to frequent use by the avid writer.
The purpose of National Handwriting Day is to remind the public of the importance of handwriting, and Fahrney's Pens' Handwriting Contest was established to help celebrate this day of recognition. According to the Writing Instrument Manufacturers Association (WIMA), National Handwriting Day is a chance for all to re-explore the purity and power of handwriting. WIMA sponsors National Handwriting Day each year on January 23rd in honor of John Hancock's birthday. Hancock was the first to sign the Declaration of Independence and is famous for his large, bold signature. Fahrney's is confident that awarding a highly sought-after Pelikan pen to the winner will encourage many individuals to get involved.
Honor the art of handwriting by entering Fahrney's 2013 Handwriting Contest, and have a chance to win a fine Pelikan Souveran pen. All entries are due by January 31st, 2013 and a winner will be chosen randomly on February 4th. To view the Pelikan Souveran 600 Green Fountain Pen visit the Fahrney's Pens website. Handwritten entries to the contest can be dropped off at Fahrney's downtown DC store or submitted by mail, fax or email using the following information (please note that all entries will become the property of Fahrney's Pens and may be reprinted without prior approval):
Store Address: 1317 F Street, NW | Washington, DC | 202-628-9525
Mail: Fahrney's Pens
Attn: Handwriting Contest
8329 Old Marlboro Pike, B13
Upper Marlboro, MD 20772
Fax: 301-736-2926
Email (must be a scanned version of your handwritten story): kgraham(at)fahrneyspens(dot)com
Known as the "Write Place", Fahrney's Pens is the Nation's premier source for fine writing instruments and accessories including pens, pencils, refills, stationery, watches, leather gifts and more. Offering pen expertise since 1929, Fahrney's is a family-owned business with a commitment to its customers—a commitment that has been rewarded with unparalleled loyalty. Visit us at FahrneysPens.com for all of your pen needs, sophisticated gifts and more.