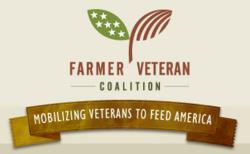 The young men and women that FVC serves – many of them veterans of the wars in Iraq and Afghanistan – are driven by a sense of purpose and a profound desire to nurture, whether it is with plants or animals
Davis, CA (PRWEB) January 16, 2013
Veteran assistance group, Farmer Veteran Coalition (FVC), has been awarded a $100,000 grant over two years from Newman's Own Foundation, the independent foundation created by the late actor and philanthropist, Paul Newman. The award to Farmer Veteran Coalition reflects the ongoing commitment of Newman's Own Foundation to organizations serving military service personnel, veterans, and their families.
"The young men and women that FVC serves – many of them veterans of the wars in Iraq and Afghanistan – are driven by a sense of purpose and a profound desire to nurture, whether it is with plants or animals. Sustainable agriculture gives them both," explained Michael O'Gorman founder, executive director FVC.
The Farmer Veteran Coalition is dedicated to educating and supporting returning military veterans entering the field of food and farming. FVC will utilize the grant from the Newman's Own Foundation to provide start-up support for Farmer Veterans pursuing Sustainable Farming.
"We are proud of the men and women who have made innumerable sacrifices in service to our country," said Robert Forrester, President of Newman's Own Foundation. "For nearly 20 years, we have been supporting the organizations that help our nation's troops and their families. This funding is intended to further the impact that our grantees are having in the lives of individuals and families in their time of need."
Paul Newman established the Foundation in 2005, as a means of continuing his pledge to donate to charity all net profits and royalties from the sale of products from Newman's Own, Inc. Since the food company's founding in 1982, Newman and Newman's Own Foundation have donated more than $350 million to thousands of charities worldwide.
About Farmer Veteran Coalition
Farmer Veteran Coalition is a not-for-profit organization that connects military veterans with opportunities for employment, training, and places to heal on America's farms. Started in 2008, Farmer Veteran Coalition's mission is to Mobilize Veterans to Feed America. By connecting veterans with sustainable farming resources and education to assist them in building their farm and ranch businesses, Farmer Veteran Coalition helps veterans become successful farmers.
For more information about veteran farming and Farmer Veteran Coalition's mission to mobilize veterans to feed America, call them at (530) 564-1226 or visit them at http://www.farmvetco.org