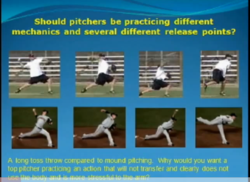 practice activities such as long toss have little to no benefit for improving pitching performance.
Scottsdale, AZ (PRWEB) January 16, 2013
The American Sports Medicine Institute will host its 31st Baseball Injuries conference Jan. 25-27th in Phoenix at the Point Tapatio resort.
Dick Mills, former Red Sox pitcher, and founder of http://www.pitching.com, will speak on why "mound pitching" practice is the best way to improve pitching performance and reduce the risk of arm injuries rather than using popular long distance throwing programs used by most MLB organizations during the regular season.
Mills, whose website http://www.pitching.com has been online since 1996, has been against long toss since 2004 after reading sports science research studies and why nonspecific practice activities such as long toss have little to no benefit for improving pitching performance.
Both the Diamondbacks' and Red Sox trainers will present their long distance throwing programs during the same session. That session is specifically for baseball coaches and trainers.
The results of an ASMI study completed and published in Jan. 2011, confirmed that long toss does not improve pitching velocity or arm strength and actually increases the stress on the elbow at distances beyond 180 ft. It also proved to interfere with normal pitching mechanics...according to Mills.
Mills says there are other ways that pitchers can increase pitching velocity faster without long toss.
Pitchers have been told for years that long toss produces more arm strength, velocity and reduces the risk of arm injuries. Yet there has never been any real evidence to support it. Long toss is based on the belief that if a pitcher can throw far he can also throw fast from the mound.
Mills spoke on this same topic at ASMI's 27th annual Baseball conference in Houston. The title of his talk - Should We Rethink Long Toss As A Valuable Practice Tool For Pitchers.
Then in 2010 ASMI launched a study on long toss which was released to the public in Jan. 2011.
Mills provides two points about how long toss actually reduces pitching velocity.
Mills believes that his in-season "mound-only pitching" practice routine will produce far more skilled pitchers and with less risk of injury.
"Pitching is a highly skilled action whose release point is one of sports most difficult and refined actions to achieve consistently. Long distance throwing produces different release points than mound pitching because one is performed moving downhill while the other is performed on flat ground while throwing in an uphill trajectory. This can create confusion for the pitcher's brain and body..says Mills.
With no real evidence that long toss really works, many questions still remain about long distance throwing.
There is plenty of research to disprove that actions such as long toss do not work. One such sports science principle is the Specificity of Neuromuscular Patterns says this: "Changes in a skilled task produce a "new" task. The greater the number of departures from the competitive skill, the less valuable is the training."
According to Mills, this means that any departure in mechanics from mound pitching such as long distance throwing on flat ground using a crow hop and throwing in a uphill trajectory, is interpreted by the pitcher's brain as another completely different activity. Thus practicing long toss provides no meaningful transfer to pitching...no matter what the intention is of the coach or player.
About Dick Mills: Dick Mills is a former Red Sox pitcher. He is a recognized authority on pitching and the first pitching expert to turn to sports science for evidence based knowledge of how to improving pitching performance. He is the co-author with Dr. Brent Rushall of the 624 page volume - The Science and Art Of Baseball Pitching - The Coaches Complete Handbook of Scientific Pitching...the first fully researched book on pitching which is currently out of print. Dick is a staunch advocate of video analysis for expert feedback on mechanics. He and his son Ryan specialize in helping pitchers improve their velocity by improving their mechanics at their facility in Scottsdale, AZ. Pitchers fly in each week from all over the country to get assessments
Dick's website is http://www.pitching.com