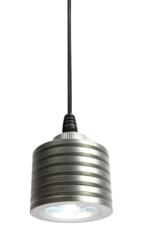 New York, NY (PRWEB) January 18, 2013
Voltaic Systems today launched its waterproof USB Touchlight. The Touchlight is designed for both indoor and outdoor use. It can be used for lighting households off the grid, emergency preparedness, camping and hiking.
This USB light is made of lightweight, recycled aluminum. It is powered from Voltaic's line of solar chargers and universal batteries, as well as any USB port. With this patent-pending design, pressing the lens turns on the light and adjusts between three brightness levels.
For a limited time, Voltaic is offering the Touchlight as part of a Buy One Give One program. For every solar lighting kit purchased, Voltaic will deliver and install a similar kit in a village without power in the Peruvian Andes.
"As LEDs become more efficient, they allow us to create cost effective solar lighting solutions," says CEO Shayne McQuade. "This is the first of several new lighting products coming from Voltaic. Our goal is to replace kerosene and other forms of dirty, expensive lighting for people living without power."
Controlled Brightness
The Touchlight uses a highly efficient CREE XLamp LED that outputs up to 175 lumens. The Touchlight has three brightness levels so the user can adjust the lighting according to their needs and manage their power consumption.
Multiple Mounting Options
The Touchlight can hang like a pendant light from the included extension cable, or it can function as a reading light with the included flex cable.
Waterproof
The light is designed to be an indoor / outdoor light and is fully waterproof. This was achieved through the patent pending design of the switch inside the lens.
Buy One Give One
For every BOGO solar kit purchased on Voltaic's site, Voltaic will deliver and install a lighting kit. To implement the program, Voltaic is partnering with its distributor in Peru, Water Solutions SAC, and Q´ellqa "Energía que Trasciende" SAC, of Cusco, to install solar lighting systems at Q´eros Community. Santu Tour Operador, a Cusco tour operator, is providing the knowledge and equipment needed for access to the village.
The Q'eros have maintained cultural traditions surviving from the pre-Hispanic era. Ranging from agricultural and medical to spiritual, these customs reflect the community's Andean beliefs system and its close connection to the Earth and surrounding mountains. The community's practice of these traditions has earned the distinction of being the last existing Incan Ayllu. An Ayllu is a traditional form of community in the Andes.
These solar systems will provide a clean, renewable source of power for both lights and phones in the village. Not only will the lights help replace or minimize dirty kerosene usage, they will also reduce the amount of money spent on fuel and batteries.
Specifications:
+ Brightness (lumens): 50 to 175 lumens
+ Runtime from 11 Watt hour battery (hours): From 4.5 to 20 hours
+ Dimensions: Light = 1 5/8 in (4cm) diameter x 1 5/8 in (4cm) long, Extension Cable = 51 in (130cm), Flex Cable = 9 in (22cm)
+ Weight: 4 ounces, 113 grams
Pricing and Availability
The USB Touchlight is available today for $35 at http://www.voltaicsystems.com/usb-touchlight
The Buy One Give One solar lighting kit is available for $75 at http://www.voltaicsystems.com/peru
Voltaic Systems was founded in 2004 to develop energy solutions using environmentally-intelligent designs. For more information please visit http://www.voltaicsystems.com, and contact us at 1.877.304.6861 x701 or media(at)voltaicsystems(dot)com. High-resolution photos are available upon request.
Water Solutions S.A.C. is a Lima, Peru based importer and distributor of state of the art equipment designed to reduce energy consumption and provide clean water. Their service includes the design of the project, installation and ongoing maintenance. http://www.watersolutionsperu.com
Q'ellqa "Energía que Trasciende" SAC is located in Cusco, Peru. The company provides tailored, long lasting renewable energy solutions. It focuses on creating social value and building environmental awareness. Contact Q'ellqa at info(at)qellqacusco(dot)com and Santu Cusco at http://www.santucusco.com.
Voltaic Systems will be at the New York Times Travel Show from January 18 - 20, 2013. Look for us at The Connected Traveler Technology Showcase in booth 511 at Jacob Javits Center, New York, NY.