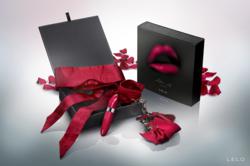 LELO seeks to replace the last-minute scramble for flowers and chocolates with a sensual gift that is both unique and also something partners can enjoy together.
San Jose, CA (PRWEB) January 15, 2013
Today, Swedish intimate lifestyle brand, LELO, has released data that indicates an overwhelming number of people are dreading Valentine's Day, and if not they are just completely indifferent to it. With this in mind, LELO has launched a new "Save Your Valentine's Day" digital and social media campaign via LELO.com aimed at taking the clichés and disappointment out of gift-giving. By allowing couples to send their partner a sexy hint regarding the Adore Me Pleasure Set, LELO seeks to replace the last-minute scramble for flowers and chocolates with a sensual gift that is both unique and also something partners can enjoy together.
Given legal firms hand out more divorce papers in the week after Valentine's Day than in any other week of the year, LELO's campaign has not come a moment too soon.
Research shows when it comes to women and Valentine's Day:

62 percent did not even like the gift they received last year
80 percent felt that their partner did not make an adequate effort
25 percent consider Valentine's Day the most disappointing holiday in the calendar
And as for the men:

According to social media chatter amongst males, 76 percent of posts and updates regarding Valentine's Day are negative
45 percent claim that they are the ones who would like to be spoiled on February 14, instead of their female counterparts
70 percent admit that they only observe Valentine's for the possibility of sex, making their romantic gestures a means to an end
Seeing communication as the solution to most complaints surrounding this day, LELO allows visitors to send their partner a sexy hint via a personalized e-card with a link to the Adore Me Pleasure Set. The campaign is based on additional research showing that 73 percent of men and 68 percent of women expect to have sex on February 14, but may struggle to communicate this directly.
LELO's luxurious Adore Me Pleasure Set includes everything a couple needs for the most passionate Valentine's night, including a USB-rechargeable lipstick-like vibe in Mia™ 2 alongside silk and suede bedroom accessories. Couples can ramp up the romance with a blindfold of pure silk and a set of luxurious silk and suede handcuffs, before sharing the pleasures of the Mia™ 2 personal massager. Each item is made with the high attention to quality that LELO is renowned for, and comes packaged in a beautifully designed gift box.
LELO's "Save Your Valentine's Day" campaign also arrives on the back of results from LELO's Global Survey published in November 2012, which showed that following the success of "Fifty Shades of Grey," women worldwide are taking a more vocal role in expressing what they want in the bedroom; by enabling this new assertiveness, LELO aims to make Valentine's Day something everyone can be excited about once again.
NOTE TO EDITORS: For all media inquiries and high-resolution images, please contact Cecilia Minges via pr@lelo.com
LELO is the world's leading designer brand for intimate lifestyle products. On launching in 2003, LELO transformed the look, feel and function of how personal massagers were perceived, and now applies the same commitment to quality and innovation through bedroom accessories, massage oils, soy massage candles and a premium line of silk intimate apparel. LELOi AB is the Swedish company behind LELO, where offices extend from Stockholm to San Jose, from Sydney to Shanghai.