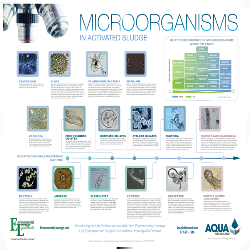 This poster should be in every wastewater treatment plant's laboratory.
Loves Park, Illinois (PRWEB) January 23, 2013
Got Bugs? AquaOnDemand in collaboration with Environmental Leverage developed a highly informative "Microorganisms in Activated Sludge" poster. This poster should be in every wastewater treatment plant's laboratory. It features sixteen photos of the most common microorganisms found in activated sludge including bacteria, algae, spirillum, zoogloea, ciliates, flagellates, rotifers, nematodes, bristle worms and water bears. Along with each photo is a narrative providing details about the specific microorganism, what environmental conditions favor the presence of the various microorganisms and what their presence tells a plant operator. The poster includes a chart of the "Relative Predominance of Indicator Organisms versus Food/Mass (F/M) ratio and Mean Cell Residence Time (MCRT)" and a timeline showing the "Relative Indicator Organisms Progression Over Time".
This 24" x 30" poster is printed on laminated paper and is suitable for any wastewater treatment plant or laboratory. It is an excellent reference tool for plant operators and microbiologist and may be supplemented by other microbiological resources available through AquaOnDemand.
AquaOnDemand.com is an online web store featuring thousands of products, services and resources for the people that safeguard our most precious resource, water….from the people that know water.