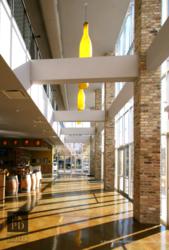 "Adaptive reuse, or re-purposing a building, space or building materials, can be one of the most sustainable ways to build community," says Katz. "Decisions in the design and construction process should be governed by its level of sustainability.
(PRWEB) January 17, 2013
When Phillip Katz established his design and management practice in 2001, as owner and founder of Phillip Katz-Project Development (PKPD), the commercial and residential development industry was in high gear. Then, 9-11 happened, the economy staggered and his business plan had to adapt. It's been evolving ever since. Today, Katz is finding success and gaining national recognition for his expertise in adaptive reuse, community building and in wearing many hats, providing a diverse set of custom tailored service offerings for his clients.
"Clients want more bang for the buck and the best return on their investment," says Katz. "The disconnect between design and construction is frustrating for some clients. We offer a bridge between disciplines for more seamless integration and continuity to assure that the client's visions are realized. We work with owners to make important business decisions relative to their physical plants. Designing the space, managing the process and working as an ambassador and advocate for the owner instills more confidence and, frankly, outcomes that exceed expectations."
Katz wore all those hats in the development of City Winery Chicago, which opened in August. Investing in friend and owner Michael Dorf's 's already successful business model with City Winery in Soho, NY, the Katz-Dorf duo conducted an exhaustive property and neighborhood search in Chicago, and ultimately arrived at the conclusion that buying a property made more sense. They chose a blighted property in Chicago's Restaurant Row, 1200 West Randolph St. Co-designers Phillip Katz, Michael Dorf, and Chris Warnick worked with a team of consulting engineers to deliver complete architectural, interior and audio/visual designs for City Winery Chicago.
Katz served as onsite project manager and owners representative, bringing the team's vision to fruition from concept to completion. Chicago's first and only fully-functional urban winery is a stunning example of a renovation effort that is known as adaptive reuse, as well as community building. Community building is a philosophy of PKPD that involves working on initiatives that create environments which enrich and inspire the people who live or work there.
Once a 25,000 sq. ft. frozen food distributorship, the project involved demolishing 4000 sq. ft. of a turn-of-the-century industrial building, Katz saved every piece of the 120 year-old building and used the reclaimed materials in the creation of the 33,000 sq. ft working winery, restaurant and music performance venue. In doing so, Katz and his team have changed the feeling of the neighborhood, extending current hospitality development further west on Randolph St., and connecting Chicago's Loop with the United Center. It also created 120 new jobs.
"Adaptive reuse, or re-purposing a building, space or building materials, has the potential to be one of the most sustainable ways to build community," says Katz. "Decisions in the design and construction process should be governed by its level of sustainability. Sustainability is just good architecture and this project is one of the most sustainable acts in design and construction."
City Winery is a successful adaptive reuse of an otherwise obsolete building. Katz used every brick, wood beam, window and floorboard from the deconstructed building. The reclaimed wood columns and beams were beautiful wood specimens. The team was able to set up a small mill in a rented industrial building nearby to re-purpose the beams into more than 300, custom-designed tables for City Winery. The appearance of the tables is dramatic and adds warmth, texture, and depth to the interior spaces. Large metal sliding industrial doors were turned into functional decoration. Bricks were re-claimed, cleaned, and reused on the walls and floors. Brick arches were built, adding old-world masonry craftsmanship to the space. Reclaimed doors and transom windows from the deconstructed building were also installed as part of the interior decor. Reclaimed tongue-and-groove wood decking was also reused as wainscot and wall finish to give the new space an authentic old-world warmth.
"It's a very sexy and authentic venue. Wine-making in an urban environment with great wine, food, music, and entertainment has all the ingredients for a really seductive and appealing experience. But, City Winery is also not pretentious and was designed with an eye towards authenticity and creativity - it's a completely original concept," added Katz.
Katz says that in today's economy, it can be a better value to renovate an existing building rather than to build new. Katz has a long track record of delivering successful adaptive reuse projects for businesses, non-profit organizations, liturgical clients, and now hospitality projects nationwide. In Milwaukee, Katz was honored in 2008 for converting the former Chicago Crane building into a Lad Lake alternative school. He received an environmentally friendly award the following year for transforming the former Manpower headquarters in Glendale, Wis., into the new home of AB Data. Most developers would have leveled and thrown the building into a landfill.
Katz is currently working on three adaptive reuse projects that are consistent with the vision of building community. The Jewish Student House near the UIC campus in Chicago, is an existing multifamily building that will be converted into a Jewish community student center. Katz is also working on converting an existing 1950s Chicago church into a synagogue. Katz is also working with stakeholders and the City of Milwaukee to reuse an abandoned railroad overpass to create an urban park and trail dubbed 'The Highline at Capitol Crossing'.
Katz's passion has always been in sacred spaces and liturgical architecture. Growing up in a traditional home, he perceived that sacred buildings were the most iconic structures and one of the highest forms of architectural practice. His brilliance can be seen in the sacred and social spaces at Congregation Emanu-El B'ne Jeshurun in River Hills, Wis. The project has received awards and accolades from the art, engineering, design, and construction communities.
But, when economic forces have been as dramatic as they have been for the past decade, Katz has also learned that like all the buildings he has transformed, he has had to adapt and evolve and is inspired by the challenge.
"I want my work to have meaning and add life to a community. In the current environment it has to be more than just pure design. It's building projects from concept to completion and that's where I see our future in this industry."