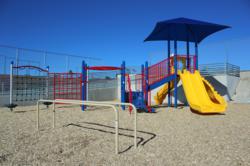 Playcraft Hybrid Play Structure, Provided by Pacific Play Systems, Now Open at O'Farrell School, San Diego
San Diego, CA (PRWEB) January 16, 2013
Pacific Play Systems has just completed the installation of new playground equipment at two play areas at O'Farrell Charter School in San Diego that includes a new play structure designed for use by children in the 5-12 age group, and a variety of spring riders and freestanding play events including parallel bars, overhead ladders, etc. Earlier last year, the installation of another Playcraft custom play structure as well as a number of swings was also completed in a separate play area located at O'Farrell School. Pacific Play Systems, Inc., a local San Diego county based commercial playground equipment company, provided the equipment, installation and related services for both projects.
The scope of work for the latest playground project included site work involving removal and disposal of the existing dirt and landscaping materials at both areas, installation of the new equipment, as well as installation of IPEMA certified Play Soft engineered wood fibers, also supplied by Pacific Play. Play Soft certified engineered wood fibers are blown in using pressurized trucks and are installed to a depth of approximately 12 inches.
The new 5-12 play structure in area one contains both traditional play components such as slides and climbers, along with multiple fitness components such as a warp rung wall, matrix rope net climber, launch pads and chinning bar. The 5-12 structure was designed with a shade canopy in order to provide shade for the children during hot, sunny days. In area two, the five spring riders are all dual spring riders accessible to two children at once, and are all provided with fun and imaginative themes, including a fire truck, airplane, motorcycle, dinosaur and sky jet.