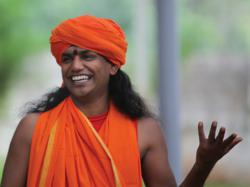 Los Angeles. CA (PRWEB) January 15, 2013
On January 10, 2013, a U.S. Federal Court dismissed, with prejudice, the entire case of Popatlal K. Savla v. Nithyananda Foundation, et al. All claims have been dismissed and the matter has been resolved.
About His Holiness Paramahamsa Nithyananda:
He is the most-watched spiritual teacher on YouTube.com with more than 16 million views, and the author of more than 300 books published in 27 global languages. Nithyananda has been named among the world's top 100 most spiritually influential personalities of 2012. An accomplished yogi and gifted spiritual healer, Paramahamsa Nithyananda has healed diseases ranging from migraine to cancer, often with a single touch.
For close to a decade now, Paramahamsa Nithyananda has been working with scientists and researchers to demystify the yogic sciences of the Universe, including kundalini awakening, DNA activation, brain-cell regeneration, levitation, materialization and yogic age-reversal.