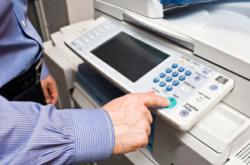 Atlanta, GA (PRWEB) January 16, 2013
1-800 Courier, a recognized leader in same-day delivery and transportation services, announces courier printing services nationwide. This value-added service is being offered to expand into markets for customers with courier and printing product needs. 1-800 Courier pursues to be the best choice for same-day delivery by providing effective service products and innovative courier logistic solutions.
Nationwide courier printing services is offered as a fast and effective product for clients that need a document printed and delivered fast. 1-800 Courier will print documents 20 pages or less for its customers and deliver it. At the time of their order request, customers can request the print service. 1-800 Courier provides the customer with the service e-mail address to send their document. Once received, the courier company forwards the document to their respective local dispatch center, where it is printed and delivered.
The courier printing service offers the benefit of providing the most optimal level of same-day delivery for this client sector. Instead of the additional origin of Fed Ex or other type of printing station for document pick up, customers can decrease delivery time by requesting 1-800 Courier to handle their small printing services. Customers also have the advantage of having a one-stop service solution. 1-800 Courier is available 24/7 to assist their customers with any of their printing and same-day delivery services.
1-800 Courier is a leading same-day courier service offering the highest level of same-day delivery, transportation and distribution services. From small packages to palletized freight, 1-800 Courier can deliver! With their experienced driving staff, superior customer care and modern courier technology, 1-800 Courier provides quality courier solutions. From its' headquarters in Atlanta, Georgia, the courier company has a growing list of over 1,500 clients, including Fortune 500 Companies throughout the US.