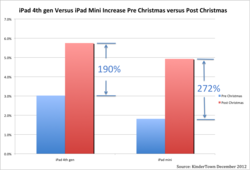 Parents focus on a tablet as an educational device picked the iPad Mini.
malvern, pa (PRWEB) January 16, 2013
Christmas 2012 was huge for tablet devices overall, but when it came to deciding between the dueling Apple (APPL) devices, iPad and iPad mini, which did parents prefer? The answer - iPad mini.
KinderTown, which provides the best educational apps for kids, released another KinderSights report to help inform the development community about how parents of children ages 3-8 are using mobile devices for educational purposes. Using exclusive KinderTown usage data and analysis, KinderSights offers unique insight into the characteristics of app users. Developers and analysts use this data to guide them in important product decisions. The latest report, "What tablet do parents prefer for early childhood play and learning, the iPad or iPad mini?" is available online on KinderTown.
The report shows that the latest iPad, iPad mini, and surprisingly to some, the latest iPod Touch were the biggest gainers during the holiday season. All saw drastic increases in the percentage of new KinderTown users who use each device; however, the iPad mini usage increased 270% almost completely over Christmas night.
"We believe it is a combination of a lower price point and smaller size that make the iPad mini more desirable to parents of young children," stated KinderTown founder Steve Welch. He went on to add that "Size is particularly important with young children who are still developing the dexterity to touch and drag objects on a screen while holding a device at the same time."
While the iPad devices continue to be a favorite for parents and educators, this holiday season once again proved the iPod Touch is a popular device for younger users who want the form factor of an iPhone but don't need the voice-calling capabilities.
About KinderTown, Inc.
KinderTown is an educational app store and teaching guide that helps busy parents find the best apps for their young kids. Available as a free download for the iPad, iPhone, and iPod Touch, users have made KinderTown the highest ranked app discovery tool for educational apps. To download KinderTown, follow the link to the App Store at bit.ly/kindertown
About Apple
Apple designs Macs, the best personal computers in the world, along with OS X, iLife, iWork and professional software. Apple leads the digital music revolution with its iPods and iTunes online store. Apple has reinvented the mobile phone with its revolutionary iPhone and App Store, and is defining the future of mobile media and computing devices with iPad.
Contact:
Brennan Knotts
brennan (at) kindertown (dot) com
(646) 580-2642