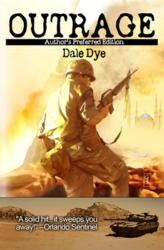 A solid hit…it sweeps you away! —Orlando Sentinel
Los Angeles, CA (PRWEB) January 21, 2013
On October 23, 1983, a terrorist slammed a truck packed with thousands of pounds of explosives into a barracks where U.S. Marine peacekeepers were sleeping in Beirut, Lebanon. More than 240 military men died as a result of the dawn attack, the heaviest loss of life in a single incident involving U.S. servicemen since the Vietnam War.
"Outrage" tells the Marines' side of the story. Stationed in Beirut with a vaguely defined mission to keep the peace, the Marines were forced to stay in "The Root" and to participate in an increasingly tense and dangerous mission. The rules were so confining that they created what they called the unwritten Rule Of Engagment: "Hunker in the bunker and don't make waves."
Written and now revised by Dale Dye, a retired Marine Corps captain who served in Beirut, this brutal, fast-moving novel about the events that led to the massacre of the Marines is peopled with Muslim terrorists, Arabs willing to lay down their lives to stop the fighting, tough Israeli soldiers who deride American peace efforts, wise-guy journalists, and—of course—the Marines. "Outrage" is a tribute to those Marines who gave their lives in Beirut and an expression of outrage at the events that occurred.
"The events described did not happen exactly as I have written them," says Dye. "But there is no escaping the fact that our government brutally abused the commitment, willing sacrifice, and admirable discipline of its front-line fighting force in Beirut."
Fast-paced, authentic, and at times disturbing, it is both an exhilarating testament to the sacrifice of those who served and an angry condemnation of the policies which led to the deaths of so many brave men.
Warriors Publishing Group is dedicating to connecting readers to the best in military fiction and nonfiction. WPG is a part of Warriors, Inc., the entertainment business' premiere military advisors, with credits including Band of Brothers, Saving Private Ryan, and many more. Our books provide entertainment and insight into the missions, motivations, and mentality of the military mind.