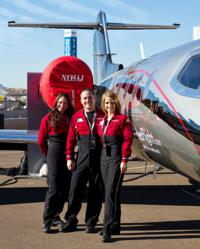 "Angel MedFlight is thrilled to be a part of this staple Scottsdale event!"
Scottsdale, AZ (PRWEB) January 17, 2013
The medically-configured Learjet 35 is now on display at the 2013 Barrett-Jackson Car Auction for visitors from all over the world to come and see. The most common questioned ask by on-lookers is how the jet got to the event. The answer is in this video: http://www.youtube.com/watch?v=C_MWpzC-mNA
Another fun question is what kind of patients use Angel MedFlight Air Ambulance. Angel MedFlight can transport patients all over the world including: newborns and babies in neonatal pods, end of life care for patients wanting to get close to family, and transporting patients to specialty clinics. The medically equipped planes act as an ICU in the sky. Travel Assurance Promise offers travelers piece of mind when out of town helping make sure they can get back home safe if they encounter an emergency while on a trip.
Visuals at the Angel MedFlight booth at Barrett-Jackson include the plane's exterior and interior to showcase what an air ambulance looks like with a patient. The patient is "SimMan," a life-like dummy on a stretcher simulating a person who is ill. The team is in full flight suits and able to answer questions about the jet and air ambulance services.
While a lot of attendees want to know specifics about the Learjet 35, Director of Operations, Brandon Kearns is giving daily tours at 3:30pm to answer any questions about tops speeds and capabilities of the Learjet 35.
Angel MedFlight Worldwide Air Ambulance will be on display outdoors near the racetrack from January 13th-20th at West World in Scottsdale.
To schedule live shots or interviews throughout the day, contact Jennifer Vogel (480) 440-0485.
About Angel MedFlight Worldwide Air Ambulance
Angel MedFlight coordinates domestic and international air medical transportation services, commercial medical escorts, ground ambulance services and provides discretionary insurance benefit assistance. Angel MedFlight's One Touch Promise® assures every detail is handled and all resources are committed to guide the process from start to finish with a compassionate team of experts in the fields of medicine, aviation, insurance law and case management. http://www.angelmedflight.com