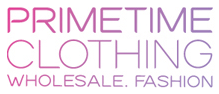 "I'm glad our customers now enjoy a more efficient and streamlined PTC process," said Tal Nelkin Director of Operations
(PRWEB) January 23, 2013
PrimeTime Clothing, the online supplier of premium wholesale fashion apparel and accessories, has found recent success with the integration of Bongo International's unique process. The new system has significantly improved the efficiency and ease of the checkout process, including the expediency of their merchandise delivery system. This comes as good news to the popular Los Angeles wholesale fashion supplier and their loyal customers throughout the United States and around the world.
PrimeTime Clothing first announced their partnership with Bongo International in the fall to help facilitate their expansion internationally, improve their checkout process and more. Since that time, they have met with great customer acclaim and satisfaction.
"I'm glad our customers now enjoy a more efficient and streamlined PTC process," said Tal Nelkin Director of Operations.
Bongo allows for more versatility, permitting customers to skip PayPal, Western Union, or wiring their bank for payment. In addition, Bongo has significantly improved their merchandise delivery system.
"And in regards to shipping, we rely on Bongo's relationship with DHL relieving us from dealing with USPS. Both features save the whole buying experience a lot of time," continued Nelkin.
PrimeTime Clothing is a well sought after online wholesale fashion apparel and accessory supplier based out of Los Angeles. They offer large discounts and maintain regular low prices on their quality goods throughout the year. Their website features the most fashionable in wholesale accessories, wholesale dresses, wholesale jewelry, cheap clothes for men, wholesale tops, various wholesale women's clothing and more. PrimeTime Clothing is proud of their recent success and expansion with Bongo International and they look forward continuing to grow and improve customer access to their high quality wholesale clothing both domestically and internationally.
About PrimeTime Clothing
PrimeTime Clothing is an online premium wholesale fashion apparel and accessory distributor with low, discounted prices. Based in Los Angeles, they have high quality goods that arrive daily from hundreds of Los Angeles area manufacturers and importers, so their customers have access to the latest fashions. They have over 25 years of experience in the business of discounted wholesale apparel. They offer additional discounts on top of their already low below wholesale prices. For more information, visit http://www.primetimeclothing.com or follow them on Facebook, Twitter, YouTube, Pinterest, Tumblr, Google+, or Instagram.