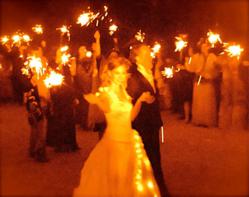 "The Fire Garden has been described as walking into a dream.Guests leave feeling like they have experienced something like never before"
San Diego Ca. (PRWEB) January 16, 2013
Choosing a combination of theme,venue,and costume that is unique to you and your beloved,is what will make your wedding day stand out. is an important factor.
Many weddings no longer feature what is known as a traditional reception. Instead, celebrations of all kinds are held in all types of places. Here are a few of the choices that are available for brides today:
The Taco Bell Wedding. Rob Poetsch, a Taco Bell spokesperson, explained that the company has "some of the most dedicated and passionate fans, and from time to time, they ask us to host weddings and other special events." He went on to say that the company is "flattered to be part of [our fans'] lives this way."
The coastal communities just north of downtown San Diego are among a few places in the world where hot air balloons can fly both at sunrise and sunset, providing wonderful opportunities for romance in the sky. How about holding an intimate ceremony high above the shores of San Diego or lifting off right after the ceremony?
Celebrate surrounded by the calls of wildlife at the San Diego Zoo.From animal print linens to exotic entertainment, and even the occasional furry visitor, a zoo wedding is sure to drive guests wild.
The Fire Garden in Bonsall offers what is without question one of the most artistic, original venues in Southern California for weddings and events.The combination of the beautiful, natural landscape,One of a kind fire Sculptures and original artwork create an ambiance that no other venue is able to offer. The property is very flexible and lends itself to many themes from Hawaiian to Victorian to laid back bar-b-que. There's enough room for sit down dinner for 250 guests with a separate area set aside for ceremony.
The owner of The Fire Garden, Tony D'Aula adds"The Fire Sculptures,original artwork and the flexibility to let wedding couples be creative with their event is what sets us aside from more traditional venues"
To make an appointment to view the property contact The Fire Garden at (760) 631-0883 or see their website at http://www.firegardenevents.com