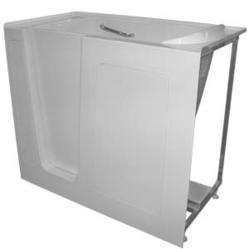 It was an exciting experience creating this commercial. Aging Safely hopes it serves to educate and inform people about walk in bathtubs and roll in showers.
Denver, CO (PRWEB) January 16, 2013
Aging Safely is pleased to announce the debut of its new commercial highlighting the benefits of walk in bathtubs. The brief online commercial will educate elderly and mobility impaired individuals about the benefits of purchasing senior bathtubs or a roll in shower.
Zach Wennstedt, CEO of Aging Safely, said, "Aging Safely is excited to be able to educate customers about walk in bathtubs on a widespread basis. Many seniors struggle to step over a high bathtub ledge and worry about their ability to enjoy safe bathing. Hydrotherapy tubs, walk in tubs, and walk in showers provide a safer solution that prolongs the ability of many seniors to retain their independence. Informing customers about senior bathtubs will encourage them to view Aging Safely's online showroom to learn how these unique appliances can enhance comfortable bathing."
The commercial features a senior woman who explains the potential benefits of hydrotherapy, which can include relief from aches and pains associated with sciatica, diabetes and other medical conditions. Home bound seniors and mobility impaired individuals can see the commercial at home and get an introduction to walk in bathtubs. Exposure to the commercial will encourage customers thinking about buying a walk in tub or roll in shower to shop for senior bathtubs at Aging Safely's online showroom because they know and trust it.
The commercial explains that a step in tub can promote safe bathing and is convenient. Customers can enter these unique bathtubs through a low threshold door. A grab bar system assists in maintaining, balance, and a non-slip floor adds security once inside the hydrotherapy tub. The commercial shows the interior of the walk in bathtubs, so viewers can see how senior bathtubs can enhance health and independence. Viewers will see details, such as a hand held shower nozzle and optional water and air jet systems that make walk in tubs luxurious and soothing for seniors who have muscle aches or frequent pain.
Shoppers can see the walk in bathtubs commercial on YouTube, Vimeo and other online platforms. Viewers will be able to envision using in walk in tubs and showers. Aging Safely's commercials will help make customers aware of its reputation for quality senior bathtubs
The commercial just shows a small sample of what customers will see when they visit Aging Safely's online showroom. Exploring walk in bathroom options with Aging Safely's online showroom allows customers to see some of the best roll in shower stalls, senior bathtubs from multiple manufacturers and hydrotherapy tubs, so purchasers can choose the walk in tub they prefer. Aging Safely invites those that have questions, to contact a representative for a nonobligatory consultation.
Contact Information:
Zach Wennstedt
info(at)agingsafelybaths(dot)com
1-888-779-BATH(2284)