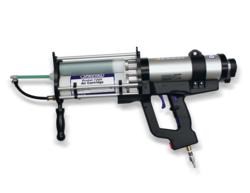 New model which provides ease of use and longer spray time to complete the job faster.
Houston, TX (PRWEB) January 17, 2013
Denso North America has introduced their new design in spray air cartridge guns, the new Protal Air Cartridge Gun (1000 ml), has some big improvements from its predecessor.
As the name implies, users can now spray 1000 ml cartridges instead of the previous 400 ml cartridges. This allows the user to spray longer and complete the job faster without having to replace the cartridge as often as before. It was designed for use with fast and easy setup, minimal material waste and minimal equipment maintenance.
Denso also brought amazing functionality of controlling airflow and fluid pressure right at handle to give the applicator more precise control with the air cartridge gun. Additionally, the air cartridge gun includes a swivel handle and optional shoulder strap to provide comfort as the user sprays.