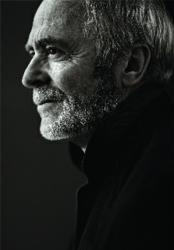 I guess people are recognizing my mortality before I do. Maybe they know something I don't.
Atlanta (PRWEB) January 17, 2013
Professional Photographers of America (PPA) will confer its prestigious Lifetime Achievement Award to Greg Gorman, a prolific maker of famed celebrity images and fine art. The award will be presented during the Award & Degree Ceremony on January 22 at Imaging USA, the convention and trade show created by and for professional photographers and held at the Georgia World Congress Center in Atlanta, Ga.
"I guess people are recognizing my mortality before I do. Maybe they know something I don't," says the California-based Gorman in the January Professional Photographer magazine interview about receiving the award.
"PPA presents this award to professional photographers who have made significant lifelong contributions to enriching the profession, and Greg fulfills that definition beautifully," says PPA President Tim Walden. "Greg's photography shows that he has the highest standards, giving us images we can all look to for inspiration and education."
From celebrity portraits and advertising campaigns to magazine layouts and fine art, Gorman has developed a discriminating and unique style over his four decades in photography. And though most often known for those celebrity portraits, his photography is timeless and not confined to has-beens, hot properties and wannabes. Each shot gives a picture of human nature in its infinite range, yet is a testament to the individual character.
Perhaps that explains why so many look to this artist as an inspiration. Teaching has become more and more important to him, and he's created weeklong workshops held at his Mendocino, Calif. home. He also travels for workshops around the world, including one at Imaging USA that is an inspirational look at his 40-plus year career. As an instructor, he's known for helping students better understand light, connect with subjects, and refill themselves with passion and love of life.
"Greg's work pushes us to do better just by looking at it," adds Walden. "I also remember sitting in one of his lectures years ago. It was not only impressive but informative and entertaining, and that doesn't always happen at the same time! Greg's the full package. "
When not shooting famous faces or teaching, Gorman travels the world for specialized photographic projects and continues to work on compilations of his imagery. A book of his photos for the award-winning l.a. Eyeworks campaign, entitled "Framed," was released in 2012, joining several other published works. And one cannot forget his contributions to charitable works by The Elton John Aids Foundation, Aids Healthcare Foundation, Focus on Aids, The Oscar De La Hoya Foundation, Vox/Out Voices of Style + Design, PETA, Angel Art, Pacific Design Center Stars of Design, and PawsLA.
Along with teaching and receiving the Lifetime Achievement Award, Gorman will have a display showcased in the International Photographic Exhibit at Imaging USA.
About Professional Photographers of America (PPA):
Professional Photographers of America (PPA) is the largest international non-profit association created by professional photographers, for professional photographers. Almost as long-lived as photography itself, PPA has roots back to 1869. It has never stopped growing and looking for new ways to assist its now 25,000 members through protection, education and resources for their continued success in the industry. See why photographers love PPA at http://www.ppa.com.
About Imaging USA:
Imaging USA began in 1880 as the annual convention and trade show for what would become known as Professional Photographers of America, and it's the longest running photographic convention, expo and image exhibition in the United States. Attended by thousands of professional photographers and industry experts across the globe, Imaging USA combines education, networking and trade show deals to create a place photographers flock to for inspiration and growth. For more information, visit http://www.imagingusa.org or call 888-260-0016.
# # #