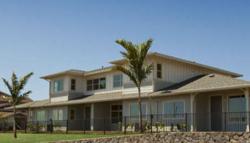 Wailuku Maui, Hawaii (PRWEB) January 17, 2013
Maui's well-known Kehalani communities respond to buyer demand by offering great sale prices and preferred Lender financing programs to qualified homebuyers, excellent FHA financing to qualified homebuyers, 10-year home warranty, and other incentives on the new release of Maui homes at Ho'ole'a Terrace, a new home community in Wailuku.
Buyers who purchase a new Maui home at Ho'ole'a Terrace enjoy the advantages of new home construction and efficiency with excellent standards of construction and energy savings through the use of new and improved building materials and design applications.
"We have continued to seen a strong increase in demand for the island of Maui real estate, particularly new construction. Our Maui homes at Kehalani are the ideal residences for buyers who want a central Maui location with ocean and/or mountain views at value pricing," says Laurie Lee, Principal Broker for the community.
The Kehalani new homes community in Maui offers two and three bedroom condominiums and townhomes that are nestled on the slopes of the West Maui Mountains. Kehalani is a comfortable, master-planned community of luxurious, low-maintenance Maui real estate with spectacular views nestled at the base of the West Maui Mountains, just a short drive to pristine beaches.
"With few affordable new construction offerings in Maui, Ho'ole'a Terrace is a must see for couples, singles and young families trying to find their starter home", says Michael Carreno, President Paradigm Real Estate Solutions, the marketing firm for the community. The strong sales in 2012 are an indication of the value available at Ho'ole'a Terrace."
For more information about amenities and incentives, call our Sales Center toll-free at (888) 988-8285 or sales(at)mauicondoskehalani(dot)com. You can also connect with the Online Sales Concierge available 7 days per week by Live Chat at http://www.MauiCondosKehalani.com.
About Stanford Carr Development
Ho'ole'a Terrace at Kehalani is the newest luxury condominium community to hit the Central Maui real estate market from award-winning developer Stanford Carr Development. Since 1990, Stanford Carr has been providing Maui enthusiasts with high quality, high value real estate on Maui. For more information, visit http://www.StanfordCarr.com.
About Paradigm Real Estate Solutions
Paradigm Real Estate Solutions is a full service national Real Estate Sales and Marketing Consultant for Stanford Carr Development and is leveraging its proprietary technology platform Marketing Success Portal® to deliver the next generation of real estate solutions for homebuilders, developers and financial institutions. Paradigm Real Estate Solutions provides market research, proprietary web based technology and internet-centric methods. For more information visit http://www.ParadigmIntel.com.