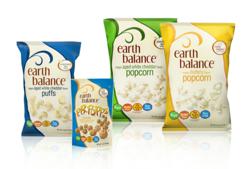 Boulder, Colo. (PRWEB) January 17, 2013
Earth Balance, a line of all-natural buttery spreads, nut butters, soymilk, culinary spreads and alternative mayo dressings announces its expansion into the snack category. Vegan, gluten-free and non-gmo, the four new Earth Balance® popcorn and puff items will launch nationwide early this year.
"As Earth Balance is a brand that stands for the plant-based diet, it is our goal to provide the best tasting and highest quality vegan foods on the market," says Duane Primozich, Senior Vice President General Manager, Earth Balance. "Our new line of vegan snacks are not only delicious, but they offer a convenient, plant-based solution for anytime eating – whether you're on the go or enjoying a snack at home. Following a plant-based diet doesn't have to be time consuming and we hope these products prove that."
The new Earth Balance® Plant-Based Snacks are the first of their kind on the market and include Vegan Buttery Flavor Popcorn, Vegan Aged White Cheddar Flavor Popcorn, Vegan Aged White Cheddar Flavor Puffs and P.B. Popps, a sweet and salty popcorn treat. Made with all-natural, USA grown non-gmo corn, expeller-pressed oil and delicious flavor, these snacks are vegan, gluten-free and free from trans fats, artificial and genetically modified ingredients of any kind. By the bag or the bowl, these snacks are sure to satisfy any crunchy craving, and are perfect for munching any time of day.
According to the 10 Cutting-Edge Dining Trends of 2013 published by the Sterling-Rice Group, a leading team of culinary brand experts, "popcorn is the snack of 2013." Additionally, the media world is calling the plant-based diet one of the "top food trends" of 2013. Publications such as Supermarket News, Restaurant Magazine and VegNews Magazine are all talking about the rise of plant-based foods, and Earth Balance is poised to serve this increasing demand, especially when it comes to snacks.
"We believe plant-based is the answer to consumer interest in leading a more conscious, compassionate lifestyle," says Primozich. "At Earth Balance, we strive to empower consumers to eat well, and become stewards for the planet and for health."
In addition to the brand's new product introduction, Earth Balance has created a community focused on the plant-based diet through the online community Made Just Right™, at MadeJustRight.com. The site provides vegan, vegetarian, gluten-free, dairy-free recipes, as well as Non-GMO action information, and interviews with well known food educators and activists.
More information about Earth Balance snacks and plant-based diet initiatives can be found at earthbalancenatural.com.
About Earth Balance:
Based near Boulder, Colo., Earth Balance produces a line of delicious buttery spreads, shortenings, nut butters, soymilk, soy nog, coconut spread and alternative mayo. All Earth Balance® products are plant-based, vegan, made without artificial ingredients and hydrogenated oils, and are free of gluten, lactose and eggs, offering a delicious alternative for individuals with food sensitivities and those seeking healthier options for their favorite foods. Earth Balance® products are a great complement to cooking and baking and some can be enjoyed on their own. Earth Balance strongly supports the Non-GMO Project and sustainable agriculture practices, and all Earth Balance® products are made without genetically modified ingredients. Earth Balance promotes a plant-based diet and earth-friendly lifestyle through its Made Just Right™ online social community. Earth Balance is a division of GFA Brands, Inc., an operating affiliate of Boulder Brands, Inc. (NasdaqGM: BDBD). For more information, visit http://www.EarthBalanceNatural.com and http://www.MadeJustRight.com.
###