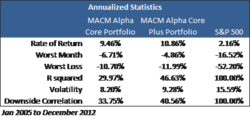 "Our primary focus is to generate low-volatility returns for our clients. We want them to be able to sleep at night, not worrying what the stock market is doing. We do this by emphasizing risk management." said MACM's Partner and Chief Marketing Officer
Palm Beach Gardens, FL (PRWEB) January 17, 2013
The MA Capital Management (MACM) Alpha Series Portfolios end another year with solid performance and very low risk, as measured by volatility when compared to the S&P 500 index. For example, the volatility of the Alpha Core Portfolio was 8.20%, or almost half of that of the S&P 500's of 15.59% when measured from January 2005 to December 2012.
A subsidiary of MACM, a SEC-registered investment adviser, offers a new series of portfolios that use a systematic approach to investing that not only includes the use of alternative asset classes, but also emphasizes risk management.
The firm's unprecedented egalitarian approach to investing provides, for the first time, access by average investors to investment techniques that until now were only available to the wealthiest investors.
"Our primary focus is to generate low-volatility returns for our clients. We want them to be able to sleep at night, not worrying what the stock market is doing. We do this by emphasizing risk management." said MACM's Partner and Chief Marketing Officer, Zina Spezakis, CFA.
"Systematic investing and sophisticated risk management techniques have long been the exclusive province of the wealthiest and most privileged classes. But we are going to make it widely known that now 'everyone' can access dynamic and risk managed portfolios typically attainable by investing in alternative investments," she said, as accounts are able to invest in a wider range of assets and employ sophisticated buy/sell strategies traditionally unavailable through mutual funds except in only a very limited way or only to very wealthy investors.
"Many investors are questioning why the traditional buy-and-hold asset allocation and traditional investment strategies haven't provided them the benefits of true diversification and investment returns" said Spezakis.
Hedge fund industry icon Monty Agarwal, Founding Partner and Chief Investment Officer, is the go-to expert in the evolving managed futures industry. Agarwal authored the globally recognized book The Future of Hedge Fund Investing (Wiley,09), one of only 50 books on finance in the world selected for translation into Mandarin and distribution throughout China.
"As former industry insiders, my colleagues and I believe that retail investors should have access to the same sophisticated investing techniques that hedge funds use in a cost effective way. As an 'anti-establishment' firm, we reject the 'good ole boys club' that has prevented the average investor from taking advantage of powerful strategies. Our investment process adapts to rapidly changing financial markets and makes use of financial innovation. Investors are looking for opportunities and proactive risk management." said Agarwal.
About Us
MA Capital Management is an investment management firm founded by professional investors and traders with decades of experience at some of the largest banks, hedge funds and asset managers around the world. We founded MACM in order to deliver innovative investment strategies that keep up with a constantly changing world. Headquartered in Palm Beach Gardens, FL, MA Capital Management is open to individuals through its website at http://www.macmllc.com.
Disclosures
This brochure is solely for informational purposes. Presentations of back-tested performance are hypothetical, were compiled after the end of the period advertised, and do not represent decisions made by MA Capital Management during the period described. For actual results that are compared to an index, all material facts relevant to the comparison are disclosed herein and reflect the deduction of advisory fees, brokerage and other commissions and any other expenses paid by MA Capital Management's clients. Advisory services are only offered to clients or prospective clients where MA Capital Management and its representatives are properly licensed or exempt from licensure. Past performance is no guarantee of future returns. Investing involves risk and possible loss of principal capital. No advice may be rendered by MA Capital Management unless a client service agreement is in place. For complete disclosures, please see http://www.macmllc.com.