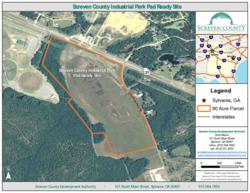 The GRAD designation for Screven County's site means that it can truly compete on a global stage for new industry and the accompanying jobs
Sylvania, GA (PRWEB) January 17, 2013
Screven County Development Authority announced today that the 90-acre pad ready site at Screven County Industrial Park has been named a Georgia Ready for Accelerated Development (GRAD) by the Georgia Allies, a public-private partnership focused on economic development marketing.
"The GRAD designation for Screven County's site means that it can truly compete on a global stage for new industry and the accompanying jobs," said Dennis Chastain, Vice Chairman of Georgia Allies. "I fully believe that Sylvania's efforts to attain the GRAD status for the pad-ready site will be beneficial."
The 90-acre pad ready site at Screven County Industrial Park is located on GA-21, which provides 4-lane access to the Port of Savannah as well as easy connections to I-95, I-16, and I-20.
The GRAD designation indicates that Screven County's 90 acre pad-ready site is market-ready. The designation also includes several tools to market the site, including:

Program benefits on the Georgia Department of Economic Development website
Highlighted listings on the industrial site sections of major utility Web sites
Continued presence on Georgia Allies electronic newsletter targeted to companies and location consultants
Site awareness for statewide project managers and Georgia Allies partners
"From everything we have been told by project managers, site selection consultants, and prospects themselves, the 'readiness' of a site for development is one of the most key factors for winning industrial partners and jobs for your community," says Bobby Smith, Chairman of Screven County Development Authority. "In order to best serve our citizens and our purpose as a Development Authority, we have put a priority on making our industrial park truly ready for development."
Created in 1997 to further capitalize on the momentum of the games, Georgia Allies was formed as a partnership between state government and private corporations designed to lead economic development marketing efforts. A collaborative endeavor, Allies leverages the individual initiatives of its members into a larger, targeted program that aggressively promotes the state's business development. This organization serves as a benchmark creating innovative and cutting-edge activities to enhance Georgia's business climate.