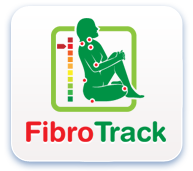 FibroTrack supports an evidence based approach to living better with chronic pain.
Cumming, GA (PRWEB) January 16, 2013
Treating fibromyalgia is notoriously difficult primarily due to the reality that what works for one patient may to do nothing for another. Effective treatment tends to be individual in nature. While there is no cure for fibromyalgia, patients can realize significant reductions in symptoms and an increased quality of life through engaging in proven effective self-management strategies.
Fibromyalgia and health care experts from across the spectrum agree that fibromyalgia patients should pursue self-management as a primary focus in their treatment efforts. Self-management refers to a process through which patients embrace responsibility for leading their own care efforts in cooperation with their doctors and other care team members. Through education and careful tracking of symptoms and treatment efforts, patients engaged in an effective self-management process employ trial and error testing in an effort to determine which treatment options will prove most effective for them.
Numerous research studies have documented that a multi-dimensional treatment approach will provide the greatest benefit to most patients. This may consist of a combination of prescription drugs, pain medications, supplements and vitamins, therapy options, exercise, dietary changes and lifestyle modifications. The number of potentially effective treatment options and combinations of options numbers in the thousands making the process of determining which combination will prove effective for individual patients incredibly complex.
FibroTrack simplifies and empowers the fibromyalgia self-management process. Far more than just a symptom tracker, FibroTrack provides tremendous treatment research tools and reporting functions to drive a process of "intelligent trial and error" through which patients can build an individually proven effective treatment program.
"FibroTrack is not a treatment for fibromyalgia - it is a tool to make your treatment efforts more effective" says Terry Springer, the designer of the system. "FibroTrack supports an evidence based approach to living better with chronic pain".
The mobile companion applications for the iPhone and Android phones are available as free downloads for FibroTrack members in iTunes and the Android app stores.