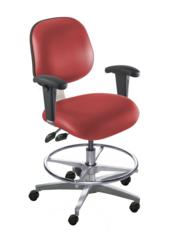 All BioFit products are designed with ergonomics in mind, including our full line of seating solutions
Bowling Green, Ohio (PRWEB) January 17, 2013
BioFit Engineered Products, a leader in furnishing solutions for workplaces worldwide, is dedicated to improving worker safety and productivity through the use of ergonomics. In 2013, the company is encouraging laboratories and other workplaces to make a resolution to place increased emphasis on incorporating ergonomics in order to help create work environments with fewer injuries and greater performance.
"All BioFit products are designed with ergonomics in mind, including our full line of seating solutions," says Ed Metzger, president of BioFit. "By offering full adjustability, a seat that allows for even weight distribution, lumbar support and a five-legged pedestal base, our chairs and stools help protect workers from the musculoskeletal disorders and repetitive motion injuries that can occur when workers are unable to change their position for long periods of time."
Studies also show that the right ergonomics can increase worker productivity. "When people have the freedom to move naturally over the course of a work day," Metzger adds, "they are better equipped to remain attentive, and that has been proven to enhance performance among workers as their workdays extend to eight hours and beyond."
To that end, BioFit offers a complete line of seating solutions that are specifically engineered to meet the demands of various laboratory settings. Static control seating is available, as well as optional antimicrobial finishes and features that ensure an easy wipe-down. BioFit also offers seating options that are clean room rated all the way to Class 1/ISO Class 3. In addition, BioFit works with specifiers to create custom furnishings when needed.
BioFit Engineered Products is a worldwide leader in furnishing solutions designed to fit a variety of workspaces—from laboratory, healthcare, and technology to industrial, educational and office settings. BioFit's earth-friendly, ergonomic seating, mobile folding tables, carts and accessories are creating more comfortable, more durable, and more stylish work environments around the world. For more information, visit biofit.com/lab, or call 800.597.0246.