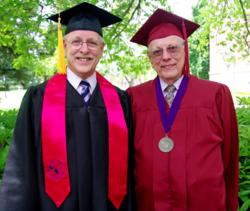 Linfield College's online program complements a robust liberal arts and sciences program on its Oregon campus.
McMINNVILLE, Ore. (PRWEB) January 16, 2013
Linfield College outranked the state's seven public universities, with only two Oregon schools making the Best Online Education Degree Programs list. The small college was rated 136th in the nation.
Criteria include the strength of individual mentoring and career placement support, the quality of technology, and graduation rates, among other indicators.
Last fall, the school's online degree program experienced an 8 percent increase in the number of new enrollments, consistent with national trends. A recent survey from the Babson Survey Research Group showed that online enrollments make up an increasing proportion of all college enrollments, with 32 percent of all students taking at least one online course.
"The online program at Linfield College appeals to older students, with an average age of 36," said Janet Gifford, associate director of the school's Adult Degree Program. "Our online students miss out on the richness of our campus-based college experience, but students come to us at different stages of life and it's important that we support all of them. Most of our online students work full-time and have family responsibilities."
This year, Linfield College also received high marks from other organizations. The Institute of International Education ranked Linfield in the top 40 among U.S. undergraduate schools for participation in study abroad; half of all its graduates have studied outside the U.S. Washington Monthly named the college one of the top 100 liberal arts schools that make a vital contribution to society, and Linfield ranked 112th in the earlier U.S. News & World Report survey of the nation's best liberal arts colleges.
Linfield also offers hybrid degrees and certificates that combine online and on-campus settings. The school's Adult Degree Program has waived the application fee through Feb. 18 for students who enroll in spring or summer online courses.