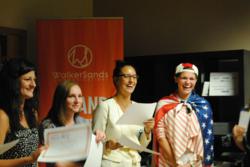 Chicago, IL (PRWEB) January 15, 2013
Walker Sands, a public relations agency for B2B and technology companies, has been named a "Top 50 Employer for Gen Y Talent in Chicago" by Brill Street + Company.
Walker Sands' startup mentality, highly connected workforce and enticing perks are among the reasons it was recognized as one of the 50 best places for Gen Y employees in Chicago. Like many of the company's startup and technology clients, Walker Sands' open concept workspace, flexible technology policies and accessible senior leadership encourages collaboration and contributes to the company's high employee satisfaction rate.
With a strong focus on professional development, including sponsored continued education opportunities and professional events, Walker Sands' employees are encouraged to shape the direction of their own careers. The company's promotion process is based largely on achievement, rather than tenure alone. This puts the emphasis on accountability and personal growth while enabling employees to have an impact on the company regardless of seniority, from interns to upper management.
"Our organization is focused on cultivating a learning environment and supporting our employees' career goals every step of the way," said Mike Santoro, President of Walker Sands. "We have structured our organization to keep employees happy and attract promising Gen Y talent who can make a difference. This award is a validation of the highly connected and collaborative environment we have worked hard to create at Walker Sands."
Aside from an attractive benefits package with 401k savings matching and healthcare and transportation stipends, the company provides several additional perks including a 'Get Fit' program that supplements employee gym memberships, a rooftop garden, social sports clubs and variety of pro-bono philanthropy projects. This includes the opportunity to become involved with The Little Giraffe Foundation, an organization Santoro founded with his wife to support research for premature babies.
Walker Sands' innovative work environment has made for a successful year. The company was honored with numerous industry awards as a result of its innovative, research-driven PR strategies, and web and SEO programs, including Best in Biz Silver Agency of the Year, and PR News and Bull Dog Stars of PR finalist in the Small Agency of the Year Category. Walker Sands also received Davey, PRSA Skyline and Hermes Awards for outstanding web work.
For more about Brill Street + Company and a complete list of the 2012 Top 50 Generation Y Employers, visit http://brillstreet.com/GenYTop50.
About Walker Sands:
Walker Sands Communications is a full-service marketing and public relations firm specializing in media relations for B2B and technology companies ranging from startups to enterprise-level. With offices in Chicago and San Francisco, Walker Sands was founded in 2001 to provide marketing and public relations support for a wide array of companies with the business mission of providing best-in-class communications counsel and services. In 2012, Walker Sands was named a PR News and Bulldog Reporter finalist for Small Agency of the Year. To learn more, visit http://www.walkersands.com.