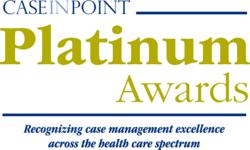 Rockville, MD (PRWEB) January 17, 2013
The Platinum Awards is an annual program open to professionals and organizations across the continuum of care responsible for case management and care coordination. The program's goal is to recognize the most successful, creative and innovative programs that are moving healthcare forward. Finalists were chosen among the entries received as they were able to successfully demonstrate the important work being done in the area of medical management and care coordination in over 30 judged categories. A list of the 2013 finalists and their respective categories can be found at http://www.dorlandhealth.com/Case-In-Point-Platinum-Awards/2013-finalists/
The awards program culminates with a ceremony at The Gaylord National Hotel in National Harbor, MD, along the Potomac River where the winners from each of the categories will be announced.
The awards event will take place on Tuesday, May 7th and will feature an exciting keynote from Melanie Schicker, RN, MHSA, EdD, Health Services Administration, School of Nursing and Healthcare Leadership at Minnesota State University Moorhead. Her presentation: Thin Ice: Meeting the demands of today's healthcare system while negotiating personal and professional ethics will address challenges professionals face during these disruptive times and reinforce the important role they play in empowering patient and families in managing care despite decreasing resources.
In addition to the Platinum Awards, the 5th Care Coordination Summit will follow allowing professionals to attend both events and maximize their time. The theme of the Care Coordination Summit this year is Innovation and Creativity: Paving the Way toward a Sustainable Healthcare System. The program provides an opportunity to hear from leaders who are maximizing their efforts to improve efficiencies, ensure access and contain escalating costs.
For more information regarding the Platinum Awards Event and the Dorland Health Care Coordination Summit, please visit http://www.dorlandhealth.com/Case-In-Point-Platinum-Awards/luncheon/
About Dorland Health
Dorland Health, a division of Access Intelligence LLC, is a leading healthcare publisher and media company providing education, training, tools, information resources, guidance and practical advice for practitioners and specialists in the healthcare field. Dorland Health services and products include the Case In Point Learning Network, Professional Patient Advocate Institute, Case In Point, Case In Point Weekly, OR Manager, Patient Advocate Report, industry-specific resource directories and reports, conferences and events, webinars, award programs and special reports. Dorland Health also offers continuing education credits.