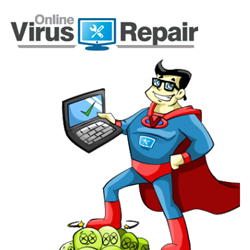 These new viruses can be removed completely online, without the hassle of visiting a local computer shop!
San Luis Obispo, CA (PRWEB) January 16, 2013
In our modern world, we're more dependent upon technology than ever before. Computers, in particular, are an essential tool that can store priceless personal data, and keep our lives organized. However, when a computer virus strikes, that can all change.
New viruses have been floating around the internet that is causing quite a nuisance to thousands of people around the world. The newest viruses are called "ransomware" because they literally hold computers hostage. Once a computer becomes infected, access to the desktop is generally blocked with a message that claims to be from a branch of the government. The specific message is dependent on the strand of the virus contracted, but generally they use names like the Department of Justice Virus, Federal Bureau of Investigation Virus, FBI MoneyPak Virus, and many others. These new infections have made threat virus removal increasingly more difficult.
The virus is spreading rapidly through vulnerabilities in common software while users browse the internet, and can install itself without any warning to the computer user. Generally, users will not be able to login to their desktop, and are presented with a notice that claims the user has broken several laws, and must submit a payment to the government to clear the charges. In reality, it's a giant scam in an effort to extort money from innocent computer users.
Dan Steiner, CEO of OnlineVirusRepair.com, explains, "Our company has seen an incredible amount of this new government scam virus, and many users are unsure of the virus is legitimate or not. It's important that if someone contracts one of these new infections, that they do not pay money to the cyber-criminals who created it. Sending money will not remove the virus most of the time, and it should be removed by professionals immediately."
Many users take to the internet to search for answers about the new viruses, and are shocked to see that it's a scam. Some take their computers in local shops and pay a great deal of money to restore access. Steiner continues, "We've found that many of the local computer shops are charging extreme prices to remove the new viruses, sometimes not even bothering to remove the virus and doing clean installs of Windows to resolve the problem. That doesn't even factor in the time people are without their computers."
OnlineVirusRepair.com has taken a different approach to removing these new pesky viruses. Instead of taking computers into local shops, people are able to call or chat with an American based technician from the comfort of their own home or office to get immediate help. New technology has made it possible for technicians to remotely remove even the worst viruses online, generally within an hour. This saves a great deal of time and money for people who depend on their computers daily.