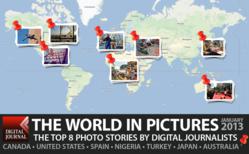 Photographs from almost every continent on Earth provided fascinating tours of communities both large and small
Toronto, Canada (PRWEB) January 16, 2013
Digital Journal today announced the winners of its global Photo Essay contest. With submissions from Nigeria to Vancouver, Australia to Michigan, Digital Journalists captured stunning portraits of life in all corners of the world.
Launched in December 2012, Digital Journal's Photo Essay contest challenged Digital Journalists around the globe to capture moments in their lives, cities and towns.
Attracting more than 100 entries from dozens of countries, the Photo Essay contest submissions showcased Digital Journal's reach and breadth of talent.
Covering a diverse range of subject matter, the contest's photo reportage captured everything from bustling Nigerian markets to Spanish ports to Detroit neighbourhoods.
"When we launched this contest we knew we would see a pretty diverse range of content," said David Silverberg, Digital Journal's Editor-in-Chief. "But when we looked through everything that was published at the end of the day, it was truly remarkable to see just how incredible the photography submissions were and how international Digital Journal's footprint has become."
Out of all submissions, one photo essay was selected as a grand prize winner, four photo stories were named as runners-up, and three honourable mentions were chosen. Entries were judged on journalistic value, composition, clarity, realism, photographic skill, timeliness, and a flair for the unexpected.
"Photographs from almost every continent on Earth provided fascinating tours of communities both large and small," said Silverberg. "We're overjoyed to see how passionate Digital Journalists have been to tell their story, photo by photo."
View: Digital Journal Photo Essay contest winners & entries
About Digital Journal:
Digital Journal Inc. is a publisher and global digital media company. Boasting a proprietary digital platform and a network of tens of thousands of professional content creators in 200 countries, Digital Journal is widely recognized as a pioneer and leader in digital media. As a publisher Digital Journal covers news and issues of the day and the company also delivers technology, content and social media solutions to brands and media companies. In 2012 Digital Journal was proclaimed one of the Top 20 most promising companies in Canada.