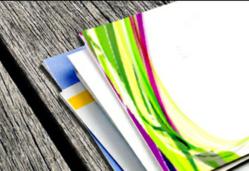 When searching for ways to cut down on costs and reduce environmental impact, there are some simple ways to do both, whether businesses are ready to go paperless in 2013 or not.
Denver, CO (PRWEB) January 16, 2013
Google's call to "Go Paperless in 2013" has stirred controversy within the printing industry. The CEO of Printing Industries of America, Michael Makin, rejected the call in an open letter to members and Two Sides has asked Google to reconsider its participation in the campaign in a public letter to Eric Schmidt, Chairman of the Board and CEO at Google. In response to these heightened discussions in the printing industry around sustainability, Print360 releases some simple green business reminders for home and small businesses that want to save money and be eco-conscious at the same time.
"One of the biggest costs for some businesses can be printing and it can create significant waste as well," says Matt Marcus, Senior Vice President at Print360. "When searching for ways to cut down on costs and reduce environmental impact, there are some simple ways to do both. We don't want folks to forget that there are steps they can take right now to go green, whether they're ready to go paperless in 2013 or not," he says. "We know that everyone in the printing industry wants to be part of positive change."
1) Reuse paper whenever possible: one of the biggest factors in overall printing costs can be the paper itself. Use printed drafts and other throwaway items like custom printed letterhead with an outdated logo or old address as scratch paper. Consider reusing paper by printing on the backside of drafts that are no longer needed. Make sure each desk in your home or office has a convenient bin for paper recycling. Make sure that each printing station at home or at work has an area for reusable paper, in addition to a new ream of paper with which to refill the printing tray.
2) Consider paper choice: If appropriate for your needs, reconsider your paper choices. Is the paper made of partially or completely recycled materials? Is it from sustainably managed forestry? What about stock? A heavy bond paper may be needed for some professional documents or for custom business cards but such paper is unnecessary for the demands of everyday printing.
3) Understand how to order printed materials: Using an online printing service can cut back on printing costs. Do the research and compare the numbers. A myriad of paper and color choices are available from online printers and bulk orders usually incur discounts. Costly, complicated or customized printing projects involving labels, letterhead, or envelopes, for example, are often cheaper from an online printer and can be more environmentally friendly. An online printer likely uses higher quality equipment than a small business or home office and professional experience eliminates botched runs.
"With all the discussions going on we thought this was a good opportunity to offer a discount for those who are ready to try more economical and efficient custom printing to reduce their home or small business printing costs and waste," says Matt Marcus at Print360.com. At this time, Print360 is offering a site-wide sale: Take 20% off all products using code GET20NOW at checkout. The offer applies to all custom printing, including product labels, envelopes, letterhead, return address labels, mailing labels and post-it notes, as well as business cards, buttons, magnets, bumper stickers, window decals, and stamps. Recently Print360 introduced custom playing cards that are included in the site-wide sale also. The offer Get20NOW cannot be combined with other offers from Print360.com.
About Print360:
Print360 specializes in custom printed products, including playing cards, bumper stickers, business cards, buttons, product labels, envelopes, letterhead, custom magnets, mailing labels, post-it notes, return address labels, stamps and window decals. Operating in several state-of-the-art printing facilities across North America, Print360 utilizes both off-set and high-speed digital printers to meet a variety of product needs with fast turnaround times. The quality of Print360 products is a result of its team of talented print industry experts, some with more than 30 years of printing experience. Combining this expertise with high quality production capabilities, Print360 maintains its affordable prices and speed. For more information, visit Print360.com and find Print360 on Facebook, Twitter (@Print360), and Google+.