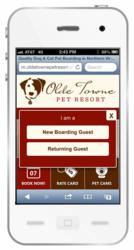 "The need to provide mobile access to our customers became clear some time ago," shares Dixie Eng, OTPR Springfield's General Manager.
(PRWEB) January 15, 2013
Are you thinking about traveling this holiday season but uncertain if you should board Fido or Kitty while you're away? If only you could view your pet from the convenience of your smartphone or tablet at any time of the day or night. Well, if you're a customer of the Olde Towne Pet Resort (OTPR) in Northern Virginia, checking in on your canine or feline during your travels via your mobile device is no longer a challenge!
OTPR has just launched its mobile-ready web site catering to busy, local and on-the-go pet parents who would like to access OTPR pet cams to look in on their furry family members but are not always nearby a desktop computer. Now, with the new mobile-ready site, these dog and cat owners have the ability to view their pets from anywhere and anytime—right from their smartphones or tablets.
"The need to provide mobile access to our customers became clear some time ago," shares Dixie Eng, OTPR Springfield's General Manager. Ms. Eng, who is also responsible for overseeing the pet resort's brand marketing, notes the traffic numbers to the pet resort's web site from handheld devices kept increasing, quarter after quarter. "When we coupled those findings along with the fact most of our customers are already quite active with their own mobile devices as well as the exploding market trends for mobile browsing, it was evident we had to provide our pet parents with the convenience mobile access can offer."
Streamlined for smartphones, tablets and handheld devices
The mobile site has been streamlined for a fully optimized mobile experience. This includes a reduced volume of content in comparison to the pet resort's desktop web site. Numerous usability enhancements allowing mobile users quick and easy access to reservations and location information, photos, videos and other features have been implemented for compatibility with smaller screens as well.
Designed as a platform-agnostic mobile site, OTPR's mobile-friendly site version is compatible with the following hand-held devices:
Apple iPhone® (all versions)
Apple iPad® 1 & 2
Android™ (tested on 2.0 or later)
Blackberry® (v4.5 or later)
To access the site via mobile, users can visit m.OldeTownePetResort.com.
Mobile pet cam video central!
OTPR's new mobile web site now provides full pet cam access no matter the handheld device used. "This portion of the project was extensive," shares Mayra Ruiz-McPherson, the mobile solutions architect from OTPR's interactive marketing partner, RMC. "At the Dulles pet resort location, there are more than 90 pet cams alone. And recently, each resort added password-protection to their suite-specific pet cams. Despite the breadth of effort, streaming the pet cams for both Springfield and Dulles locations — along with the required, password authentication capability — has been successfully implemented."
"We are pleased to bring this convenience to our customers," says Steve Jones, OTPR President. "By providing a mobile-friendly way to access the necessary features of our site and by enabling our customers 24x7 mobile access to our pet resort from absolutely any location with Internet connectivity, we empower them and respond faster to their customer service needs."
About Olde Towne Pet Resort
For 10 years, the Olde Towne Pet Resort (OTPR) has provided quality boarding and spa services for dogs and cats in Northern Virginia. With locations in both Springfield and Dulles, OTPR is known to spare no detail to ensure the utmost of comfort, safety and joy for its customers' pets. For more information about boarding or day camp services, please visit http://www.OldeTownePetResort.com.