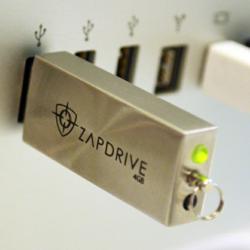 "ZapDrive's Secure Erase truly deletes your data." – Harlan Carvey, ASI Chief Forensics Scientist and author of "Windows Forensic Analysis Toolkit, Third Edition."
Reston, VA (PRWEB) January 17, 2013
Applied Security, Inc. (ASI), a Reston, VA network security company, has released its ZapDrive securely erasing Universal Serial Bus (USB) drive for sale to the public. USB drives represent a critical security vulnerability to those charged with protecting company proprietary information, intellectual property, and personally identifiable information (PII). ZapDrive works by securely erasing the USB drive's data at the physical memory level. By simply clicking a built-in button, every bit and byte on the drive is erased including fragments of files that otherwise remain in unallocated space after a file deletion or a re-format operation. If a standard USB drive is lost or stolen, the resulting data breach can be catastrophic if those unseen remnants of potentially hundreds of sensitive files are recovered by a data thief or competitor. By employing ZapDrive and its secure erase function, users can drastically reduce the size and extent of a data breach.
On a standard USB drive, deleting a file leaves the contents of that file in the flash memory's unallocated space. And contrary to popular belief, re-formatting the drive has the same effect – the files previously on the drive remain there unseen by the user and often completely intact in unallocated memory. Any minimally competent technician can download one of the many free and easy-to-use hex editor tools to read the contents of these "deleted" files. Third-party clean up tools that purport to overwrite or shred a drive's unallocated memory cannot completely guarantee that the data is not recoverable by a forensic analyst. "ZapDrive's Secure Erase truly deletes your data," states Harlan Carvey, ASI Chief Forensics Scientist and author of "Windows Forensic Analysis Toolkit, Third Edition."
ZapDrive takes a completely different approach from those tools. ZapDrive's Secure Erase technology wipes the flash memory block by block at the physical level instead of through the file system. This process removes all traces of data, leaving the drive in a forensically clean, factory-fresh state. After erasure, the ZapDrive controller automatically re-partitions and re-formats the drive so that it is ready for re-use.
USB drives are ubiquitous across most organizations. They're used for everything from data backups to file sharing to even sharing passwords. USB drives are easily misplaced, lost, or stolen. So even if employees religiously delete work files from their USB devices and re-format them (and who does that?), they still represent a huge risk to an organization's sensitive and proprietary information. "It is truly frightening to realize the risk represented by all of those USB drives lying around on everyone's desks. One drive may once have held your admin passwords, your strategic plans, or your employee roster - with salary and social security numbers - but you would never know it," said Dave Manning, Vice President of ASI's Proactive Security Division. If an organization deploys ZapDrives and employees regularly use the secure erase function, the amount of data at risk of exposure should a drive be lost or stolen is greatly reduced, Manning says.
Organizations that routinely work with PII, information governed by regulations such as the Health Insurance Portability and Accountability Act (HIPAA) or the Payment Card Industry Data Security Standard (PCI DSS), should seriously consider the potential for data breaches from lost or stolen USB devices. Using ZapDrive and its secure erase function may significantly limit the size and extent of an accidental or malicious exposure of protected data.
About Applied Security
Applied Security, Inc. is a Reston, Virginia-based high tech company providing network security services to companies of all sizes. ASI services include insider threat detection, APT detection and eradication, network incident response, digital forensics, secure mobile communications, low-profile secure data and voice networks, and specialized security appliances.
For more information about ASI, please visit http://www.appliedsec.com.
David D. Manning
Vice President, Proactive Security Division
Applied Security, Inc.
703-230-2370
http://www.appliedsec.com
davidm(at)appliedsec(dot)com