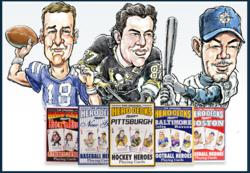 Elma, New York (PRWEB) January 16, 2013
The Made In America Store has brought a new twist on playing cards into their strictly U.S. made product store. Hero Decks brings over 30 different themed decks of playing cards and share the 100% American made guarantee the Made In America Store has.
3,500+ products from over 350 vendors that offer 100% U.S. manufactured guarantee, the Made In America Store.
Hero Decks bring a fun, new twist to playing cards by adding colors, statistics and even fully detailed illustrations. Each deck features 52 standard size playing cards, each with its own "Hero" and stats about each player or celebrity.
Themes from Hero Deck include multiple different sports teams spread across Football, Hockey and Baseball. Some of the special decks include Rock N Roll, Country Music Stars and Auto Racing Heroes.
The Made In America Store offers sports team themed decks including Chicago Blackhawks, Boston Red Socks, Boston Bruins, Buffalo Bills, St. Louis Cardinals, Boston Celtics, Chicago Cubs, Dallas Cowboys, Detroit Tigers, Florida State, Philadelphia Flyers, Green Bay Packers, Georgia State, Michigan State, University of Notre Dame, New York Giants, New York Jets, Ohio State, Oklahoma State, Pittsburgh Penguins, Baltimore Ravens, Detroit Redwings, Pittsburgh Steelers, Texas State, University of Alabama, University of Florida, New York Yankees and Cincinnati.
Looking for 100% U.S. manufactured playing cards from Parody Products? Visit the Made In America Store online.
Specialty Decks from Parody Products LLC include Auto Racing Heroes, Country Music Legends, Hollywood Celebrities and Rock N Roll.
The Made In America Store is the only brick and mortar store that sells 100% made in the United States products from over 350 vendors. Consumers can visit http://www.MadeInAmericaStore.com or call 716-652-4872 to get more information or shop our catalog of over 3,500 items. Both Active Duty Military Personnel and U.S. Military Veterans receive a 10% discount every day. Followers of the "Made In America" movement can keep updated with the Made In America Store through Facebook, Twitter, Google+, Pinterest, FourSquare and even their own blog on Wordpress!