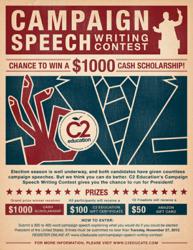 The finalists speeches have been posted online, and voting is open until February 1.
Atlanta, GA (PRWEB) January 17, 2013
C2 Education, the nation's fastest growing network of educational support centers, has announced the top ten finalists for the Campaign Speech Writing Contest, which has a $1,000 cash scholarship grand prize. In a nod to the election that inspired the contest, the winner will be determined by votes.
C2 Education's Campaign Speech Writing Contest began before the 2012 Presidential election. To encourage youth to consider world events, C2 asked students to write a 300-400 word campaign speech explaining what they would do if they could be elected President.
C2 Education received hundreds of entries. The issues at the forefront of students' minds are many – some students are concerned about the economy, others global warming, and still others find education to be a top priority.
C2 Education's panel of judges narrowed the entries to 10 finalists. The finalists' speeches have been posted on C2 Education's website, and voting is open until February 1. C2 Education will announce the Grand Prize winner on February 4.
ABOUT C2 EDUCATION
C2 Education was founded as an in-home tutoring service run out of a Harvard dorm room in 1997. From those humble beginnings, C2 has grown to include more than 120 tutoring centers across the country serving thousands of students each week. C2 students enjoy fully customized programs, one-on-one interaction with highly qualified teachers, and the support needed to succeed throughout their educational careers. C2's results speak for themselves: C2 students increase their SAT scores by an average of 350 points, 100% of C2 students pass state standardized tests, and 85% of C2 students go on to attend a top 50 college or university. For more information about C2 Education, please visit http://www.c2educate.com or call (800) 777 - 7000.