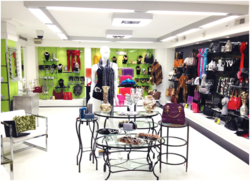 We are very excited to be back in Treasure Island. Their team is great to work with and this opening has created a ton of buzz with the other operators in town.
Miami, FL (PRWEB) January 16, 2013
Bijoux Terner is making a push into to the Las Vegas market, where it returned in December to a location at the Treasure Island Hotel & Casino and unveiled a refreshed image and a newly designed AdiXion brand concept.
"The launch of the 1,500-square-foot store is a significant development for our company," comments Gabriel Bottazzi, President and Chief Executive Officer of parent company BT Fashions. "Las Vegas is one of our most important travel markets in the United States and we could not be more excited to be increasing our presence with such an excellent partner as Treasure Island."
Located in the Treasure Island Casino near the Cirque du Soleil Mystère Showroom and the tram station, the boutique features new artwork, new signage, and a fresh new image for the single-price $10 Bijoux Terner brand.
The other half of the store caters to BT Fashions' re-designed AdiXion concept – a multi-priced range of premium fashion accessories with collections of inspired statement pieces.
Treasure Island is the first location to launch with the new AdiXion concept, and the first to offer the two concepts side-by-side.
The new format follows the experimental AdiXion store that BT Fashions opened in Miami International Airport about 18 months ago, just doors away from an existing Bijoux Terner location. At that time, Bottazzi explained that AdiXion was an "evolving concept" that would be fine-tuned according to consumer response.
After the successful test, the fashion retailer is rolling out the AdiXion brand to a series of concept stores, of which Treasure Island is the first.
"We learned since opening the first AdiXion store that there is a tremendous demand for premium fashion pieces, and that the core competencies we developed as Bijoux Terner – sourcing quality fashion accessories for more than 40 years – are entirely transmittable into luxury fashion accessories at higher price points," says Bottazzi.
In the new Treasure Island boutique, the company unveiled the refined AdiXion concept, grouping a number top-selling luxury accessories under one brand, with prices that start as low as $18 and go up to $125.
"BT Fashions has been able to capitalize on its extensive sourcing network, and world-class operations and logistics, and all of this enables us to be able to secure these premium accessories, at prices that beat the competition," explains April Morris, BT Fashions Area Manager for U.S. & Canada.
"This new AdiXion line offers 'collections of inspired statement pieces,' and entails a much wider range of products and price points than we offered previously. With the new concept, we will be able to source more higher-quality merchandise with a bolder, edgier look, and cater to consumers who want a higher fashion," says Chief Creative Officer Lina Henao.
The grand opening of the Bijoux Terner store at the Treasure Island Hotel & Casino took place at the beginning of December with a gala event.
BT Fashions took the largest team it had ever used to set up the new store in Las Vegas.
"We built out the store, set it up and merchandised it in just four days. The store features a new design, new artwork and new signage. It is really a new start for us," says Morris. The upgraded store, which had previously been a competitor's location, has generated excitement in the market.
"We are very excited to be back in Treasure Island. Their team is great to work with and this opening has created a ton of buzz with the other operators in town," says Morris. She adds that BT Fashion is in discussion with several venues in Las Vegas to expand the concept to additional locations.
"We think that this AdiXion brand is a bellwether for us in the market and also for the concept of BT Fashion stores going forward," adds Bottazzi. "This store is transformative for us, not only because we are surging in the important Las Vegas market, but also because we are rolling out this exciting new concept."
BT Fashions' accessories are available in nearly 1,000 locations around the world and, over the next few years, many of those boutiques can begin to look more and more like the concept stores being opened today.
For more information or to learn how you can open a Bijoux Terner - AdiXion boutique, please contact April Morris at amorris(at)btfashions(dot)com.
To learn more about Bijoux Terner's styles of affordable jewelry, watches, scarves, bags, and fashion accessories and the new AdiXion premium line, visit http://www.bijouxterner.com.
BT Fashions, the company behind Bijoux Terner and the leading gift specialist in the travel retail channel, pioneered the "all items, one price" concept in the world of fashion. The award-­‐winning company offers a full range of fashion-­‐forward accessories and gift items inspired by high-­‐end style trends from around the globe. BT Fashions leads the simple-­‐pricing market by sourcing and designing high value products at value-­‐ added pricing, producing quality merchandise unmatched in the industry. Established in Miami in 1974, BT Fashions accessories can be found in nearly one thousand locations in over 60 countries across 6 continents around the world.