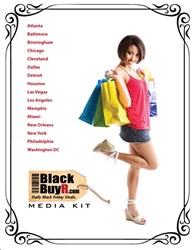 Houston, TX (PRWEB) January 15, 2013
BlackBuyr.com Announces Official Media Trade Partnership Sponsor for Dr. Martin Luther King, Jr. Memorial Breakfast on January 21, 2013
On Monday, January 21, 2013, 8 AM the North Houston Frontiers Club will host its annual Dr. Martin Luther King, Jr. Memorial Breakfast at the Hilton Americas-Houston Downtown.
The North Houston Frontiers Club, Inc. (NHFC) is a non-profit, 501(c) (3) service organization, dedicated to providing educational and charitable assistance to needy minority students in the greater Houston area. We sponsor two major activities each year to support the organization, one of which is the Dr. Martin Luther King, Jr. Memorial Breakfast, which solely funds our scholarship program. The net proceeds from the breakfast are used to fund the Scholarship Program. We have awarded over $1,000,000 in scholarships over the past twenty-four years.
This will mark the twenty-fifth anniversary of this event and we hope to make it a very special occasion. The Keynote Speaker will be Ms. Jasmine Guy, Actor-dancer-director. Mr. Terence Fontaine and wife Diedra along with Congresswoman Shelia Jackson Lee are the Honorary Chairs. During the Breakfast, The Prestigious Dr. Martin Luther King, Jr. Drum Major Award will be presented to Rev. Leslie Smith, CEO & Founder of Change Happens.
Wilma Evans, President
North Houston Frontiers Club
713-331-0440
Shirley Williams,
T. C. Feaster
John Fain
Silver Anniversary Dream Team
Founded in 2012, http://www.BlackBuyr.com currently operates as an online coupon shopping guide for all users in 16 United States cities; Atlanta, Baltimore, Birmingham, Chicago, Cleveland, Dallas, Detroit, Houston, Las Vegas, Los Angeles, Memphis, Miami, New Orleans, New York, Philadelphia, and Washington DC.
BLACKBUYR.COM is updated daily to ensure that its visitors have the most current tabs on their favorite sale items, news, and personal information.
BLACKBUYR.COM goal is to become the leading provider of African-American B2C coupon based shopping services and information over the Internet.