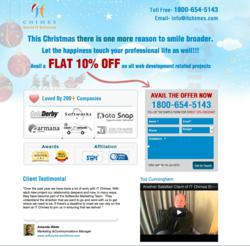 Providing the best of web development solutions
(PRWEB) January 16, 2013
IT Chimes, the leading Indian website and application development company, has extended the flat 10% discount offer on all its services for one month, the month of January. Thus, the discount will now be valid till 31st January, 2013. The company has sighted the reason of "overwhelming response" behind this step.
"The response we received was so overwhelming that we couldn't process all the new projects and requests. Most of the projects are for Off shore IT Staffing and hiring dedicated resources," said Vibhu Satpaul, business head of IT Chimes, "The response was much bigger than we anticipated and prepared ourselves for. We have worked overtime to meet the client expectation and both our business development team and the technical teams are working hard to cope up with the new project evaluation requests. Therefore we decided to allow ourselves and our clients a little more time, ensuring there is no mistake in quality check, project evaluation and the SDLC schedule".
IT Chimes previously offered a discount for the month of December 2012 calling it a "festive season goodwill gesture to the world". The discount, which has now been extended, was offering a flat 10% off on all web development and application development projects and was available for all the new clients worldwide. This news is poised to create more business opportunity for IT Chimes.
In this context, IT Chimes is the leading web development company from India which serves domestic clients as well as clients from the USA and the Europe. The company has shown proficiency in delivering innovative and futuristic solution in the fields of web development, graphics designing, database administration, website designing, responsive web designing as well as developing apps for popular handheld devices like the iOS and Android based tablets and phones. The popularity of IT Chimes is banked upon the facts that the company always delivered projects on a timely basis and also managed to keep the cost low.
About IT Chimes: IT Chimes delivers web & mobile apps development and is based in New Delhi with branch offices in the USA and UK. The company has been in existence for almost a decade and has successfully served domestic clients as well as clients from USA, Europe, Middle-east Asia and Australia. Under able guidance of Vibhu Satpaul, a post-graduate from the London School of Economics, the talented pool of employees has always been able to stay ahead of the competition by being innovative, empathetic, futuristic and tech-savvy. IT Chimes recently has recruited a new Technical Head to bolster its delivery system and declared a goal of doubling its project count and revenue in the year 2013.