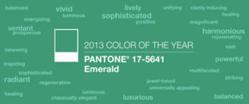 Pantone recently announced the 2013 color of the year, a "lively, radiant, lush green" Emerald 17-5641, that elevates balance and harmony.
Dallas, Texas (PRWEB) January 17, 2013
With the Dallas International Lighting Market drawing near, talks of new lighting trends are beginning to surface throughout the industry and Littman Bros Lighting is following these new trends and will be seeing fresh and innovative designs and styles in lighting first hand at the Dallas International Lighting Market.
This year is all about cheerful, bright and bold designs within the home that feature inventive and daring silhouettes that will likely incorporate solid-state light sources, more elevated designs in LED lighting.
Artistic and more sculptural lighting will be seen as well coming into the new year with the top finish trend being more chromes and polished nickel coats with of course a brilliant pop of color – Pantone recently announced the 2013 color of the year, a "lively, radiant, lush green" Emerald 17-5641, that elevates balance and harmony.
According to pantone.com, this Emerald color complements resins, ceramics, acrylics and, one of the top trends for 2013, glass. Glass fixtures, specifically pendant lighting, will be seen a lot this year and layering these pendants will also enhance the lighting design within a space; layering lighting within a space was a big trend last year and we will again see this type of lighting scheme coming into 2013.
As for the glass pendants, some of our favorites as Littman Bros that we've seen so far vary in size but all are designed and produced by some of our favorite lighting manufacturers. Some silhouettes feature more jagged and sharp forms while others take on a more smooth profile, like the Kichler Everly collection.
Kichler's Everly pendants are brand new for 2013 and are very modern and simplistic pendants that were designed with decorative blown glass containers in mind. One of the unique and eye-catching aspects of these pendants is the use of a vintage squirrel cage filament lamp that ties in well with the classic lamp-base shape with olde bronze hardware.
Another glass pendant collection that we love this year is the Foracast Lighting Harmonize shade collection – it features a very contemporary vibe with glass silhouettes that sparkle brilliantly when illuminated. Each pendant shape comes in smoke, clear or brown glass, which allows a wonderful opportunity for layering.
Littman Bros' lighting design professionals are already on top of what 2013 will bring in lighting fashions and will prep the showroom as well as littmanbros.com to reflect these trends – after the Dallas Market show, Littman Bros will surely be leaving Dallas with even more inspirations for the year as we come home with the latest and most innovative products offered at the show.