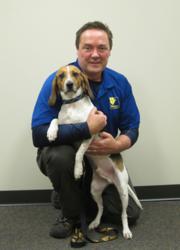 Bed bug detection dogs are trained to the same very high standards used in law enforcement, and are 3x more accurate than humans alone.
New Berlin, WI (PRWEB) January 18, 2013
For years, humans have used canines for their impeccable sense of smell to detect drugs and bombs, and more recently, for sniffing out a bed bug infestation. The way in which these dogs are trained for such tasks is actually quite similar.
Glen Bishop, Canine trainer and handler at Batzner Bed Bug Services, trains Batzner's bed bug scent detection dog, Hunter. He also has experience with 45 drug detection teams at the Milwaukee Police Department, where he trains the dogs for 5 different odors of drugs. He noted that the dogs are purchased as rescue dogs from either the Wisconsin Humane Society or the Elmbrook Humane Society in Brookfield, WI.
Dogs used in law enforcement are trained according to very high standards. One of Bishop's trained K-9's, Officer Duke of the Milwaukee Police Department, recently responded to a property where a drug suspect resides, and alerted to the presence of controlled substances on the outside of the suspect's vehicle. The police obtained a warrant and discovered four kilos of cocaine worth a street value of $804,600 and a total of $44,100 cash hidden throughout the vehicle. Two related residences were searched and a total of $100,305 cash was removed. Further, three vehicles were seized, and 3 federal arrests were made.
It is being called the biggest drug bust for Milwaukee police in about the last six months. As a Fox 6 article states, law enforcement officials credited the 10-year-old Labrador, Duke, in helping to identify the drugs.
"Duke is a tremendous asset. We really couldn't do our jobs without these K-9s," says Milwaukee Police Captain, Anthony Smith. During Duke's 9 years on the force, in addition to playing a role in the arrests of the people connected to drug trafficking, he has also played a role in the seizure of more than 8,000 pounds of marijuana and has taken more than 200 guns off the streets.
So, what is the difference in training a dog to detect drugs versus training a dog to detect a completely different substance such as bed bugs. According to Bishop, the training methods are quite similar. Through his K-9 training experience with the Milwaukee Police Department, the job opportunity at Batzner allowed him to step right in and handle Hunter because he is trained the same way that drug detection dogs are. Bishop said, "It took a couple of weeks of watching him work with his current trainer, Matt, and then working with Hunter on my own. The signals Hunter gives to alert the odor of bed bugs are similar to the signals that drug detection dogs give. Finally, Hunter will give a scratch at the location of the odor and will receive a reward."
Bishop went on to explain the way that dogs are trained to detect certain odors. The dogs are given an object to examine, such as a can. The odor for the dog to detect is added, and the dog can get used to the smell. A clicker can be used to alert the dog of the odor and follow up with a reward. The training gradually becomes harder, and the dog learns to associate the odor with a reward.
When asked what the difference is between training a drug detection dog and training a dog like Hunter to detect bed bugs, Bishop responded, "The only thing that is different is the odors. The dog is trained to scratch at the location of the odor. It is actually easier to train a bed bug detection dog because there are only 2 odors to detect- viable eggs and live bed bugs." He continued, "Dogs have scent discrimination, which means that you can't mask an odor inside another odor, because the dog will smell both. Dogs can smell the difference between odors like that of dead bed bugs and live bed bugs, which is of a great advantage to Batzner, because the dog can determine if an infestation is still present."
Bed bug detection dogs are trained to the same very high standards used in law enforcement, and are 3x more accurate than humans alone. The dogs are trained to only alert to live bed bugs and viable eggs, as to confirm if an infestation has been eliminated. Bed bug dog detection provides quicker and more accurate results, leading to a lower cost for the homeowner and/or insurer. Cost savings can be great for larger buildings like hotels or schools, as well.
If you are experiencing problems with bed bugs, it is best to seek help from a professional pest management company. Batzner Bed Bug Services provides commercial and residential bed bug services, proven effective in controlling bed bug infestations.
For more information about pests and pest management, contact Christine Venuti at Batzner Pest Management at 262-797-4160 or visit Batzner's website at http://www.batzner.com/