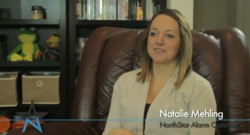 My family and I honestly couldn't be happier with NorthStar. You can't put a price on safety.
Fresno, Ca. (PRWEB) January 17, 2013
Natalie Mehling, a young mother of a four-month-old and new owner of a NorthStar home alarm system, was home alone one night when a man attempted to break into her house.
Her husband – a paramedic – was working the nightshift. Mehling was up feeding her son Emerson at around 3 a.m. when she noticed her dogs acting strange.
"I knew something was wrong by the way that our German Shepherds were barking," Mehling said.
She got up to see what was wrong and saw a hooded man at her front door attempting to break in.
Immediately after spotting the assailant, she ran to her bedroom and pushed the panic button on her Honeywell Lynx 5100 panel. NorthStar Alarm's monitoring station came through right away.
"I told them (the monitoring station) that I had seen someone trying to get into my house and to send the cops." Mehling said.
The police arrived at Mehling's home promptly and were able to apprehend the man before he could get in and sent him to jail.
It wasn't even two months earlier that she decided to have her NorthStar Alarm Honeywell system installed.
"Once we had Emerson we decided it was time to get an alarm," Mehling said.
Mehling liked the sales reps initial approach and "felt like he really cared." She went with NorthStar because she liked that the system didn't require a landline and that she could arm it with her cell phone. It was an added bonus that it was less expensive than she thought it would be.
Her decision paid off and her alarm worked when she needed it most.
"My family and I honestly couldn't be happier with NorthStar," Mehling said. "You can't put a price on safety."
About NorthStar Alarm Services:
NorthStar Alarm Services, LLC, a top home security provider and authorized dealer of Honeywell Security Products, provides the most technologically-advanced and user-friendly home security systems on the market. Having the equipment, relationships, and reputation that families have been able to count on since NorthStar was founded in 2000, NorthStar continues to grow and protect residents in more than 20 states across the U.S. With a 24-7 support staff, Rapid Response monitoring, well-trained technicians, and professional consultants— NorthStar Alarm exists to provide security and peace of mind through quality products and superior service. For more information, please visit http://www.northstaralarm.com.