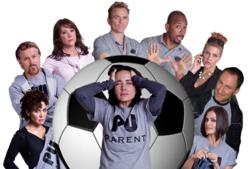 The movie features a well-known cast. Janeane Garofalo (Truth About Cats & Dogs, SNL) stars as the the suburban every-mom who signs her seven-year-old daughter up for club soccer.
Ridgewood, New Jersey (PRWEB) January 15, 2013
I'm That Parent! Ridgewood Filmmaker Caytha Jentis's film, Bad Parents, is a satirical comedy inspired by her own experiences in North Jersey about the over-zealous parents on an under 8 girls club soccer team. It takes a poke at the world of over-obsessed parents in soccer, though the theme is so universal that any parent of a child athlete may realize "I'm That Parent!" Bad Parents has been premiering throughout the country and is coming home to the Ridgewood Clearview Warner Quad, 190 East Ridgewood Avenue in Ridgewood, NJ for (4) 7:30 pm showings on January 23rd, 24th, 30th and 31st. An edited version children will enjoy will be shown on January 24th at 5pm. A Special Red Carpet Event will be held on Opening Night only, January 23rd, at 6:30pm in the lobby. Scheduled to appear are: Reiko Aylesworth from Bad Parents (also Hawaii 5-0, 24), Emmy Winning Actress/Producer Martha Byrne, Jaqueline Madden (of VH1) and other special guests.
Tickets are $12 each for the 7pm showings. Prices are $8.00 for children and $10 for adults for the children's screening. The public is invited to the free Red Carpet Event on opening night, but a ticket will be needed to see the movie. Sponsoring the Red Carpet for Opening Night is Moxie Salon, 57 East Ridgewood Avenue in Ridgewood. Tickets can be purchased with cash at the theater box office from now until the the showings. You can also visit http://www.BrownPaperTickets.com for tickets. Fore more information visit http://www.Badparentsmovie.com, visit Bad Parents on Facebook or contact info(at)foxmeadowfilms. After each evening screening in Ridgewood ticket holders are invited to Park West Tavern, 30 Oak Street in Ridgewood for a meet and greet with discounts on beverages.
In addition to a well-known cast, the film was shot entirely in North Jersey and features actors and soccer players from area. Lauren Sudol, age 7 of Ridgewood, stars as the daughter. The movie also features many local soccer players from Bergen and Passaic Counties. Residents of North Jersey will recognize many of the locations in the film.
The movie features a well-known cast. Janeane Garofalo (Truth About Cats & Dogs, SNL) stars as the the suburban every-mom who signs her seven-year-old daughter up for club soccer. Christopher Titus (Titus, Comedy Central) plays Coach Nick, who helms this young 'dream team' and is worshiped by all. Cheri Oteri (SNL), plays the perky, former cheerleader, know-it-all mom. Her fr-enemy "mean mom" Allison is played by Rebecca Budig (All My Children). Michael Boatman (Spin City, Arliss) plays Gary the Assistant Coach, a perpetual outsider longing for his moment of acceptance from everyone including his ever-disapproving wife, Tracy, played by Kristen Johnston (Bride Wars, 3rd Rock From the Sun) Reiko Ayleworth (24, Hawaii 5-0) plays Laurie the social climbing divorcee. Bill Sage (American Psycho, Boardwalk Empire) plays Dan, the college scholarship obsessed husband. Ben Bailey (Cash Cab) plays soccer parent Graham. Real Housewives of NJ Jacqueline Laurita also makes a cameo appearance in the movie.
Writer/Director/Producer Caytha Jentis, with insider authenticity and specificity, shares the absurd yet very real world of the dark side of yourth sports with humor and heart.
"Bad Parents," based on Jentis' award-winning play "It's All About the Kids" is the fourth produced feature film written by Caytha Jentis and her second outing as director. Her directorial debut, "The One" (2011), a romantic comedy starring Jon Prescott, enjoyed sold-out screenings at Cinefest, Frameline, Ridgewood, and Qfest and was released theatrically and on DVD/VOD through TLA Releasing. Jentis' first produced screenplay "And Then Came Love" (2007) starred Vanessa Williams, Eartha Kitt, Michael Boatman, Stephen Spinella and Ben Vereen. Jentis also executive produced and produced the film, which - after following the festival circuit - opened theatrically and was licensed to Warner Premier Video for DVD/VOD. It continues to enjoy great success airing extensively worldwide on premium cable networks. "Exposed"(2009), a psychological thriller written by Jentis was produced by Media at Large and recently won "Best Suspense Feature Film" at the New York Independent Film & Video Festival in both New York and Los Angeles. The short film, "The Dream House", written and produced by Jentis is currently out to festivals. Jentis is President of Fox Meadow Films.
Jentis is a Ridgewood resident as is much of her crew and team, which includes Ridgewood Resident and Producer Dorothy Fucito, Line Producer Aimee Denaro, Anthony Savini , Director of Photography and Verne Mattson, Editor.
The movie will also be shown in Clifton on January 28th, Kinnelon on January 31st and Levittown, NY on February 21st. A dedicated movie screening is also available as a fundraiser to soccer organizations and teams. Please contact Caytha Jentis at caytha(at)foxmeadowfilms.com or visit the website for more info. The movie is scheduled to be available on DVD later in 2013.
# # #
NEWS FROM FOX MEADOW FILMS
January 15, 2013
Contact: Suzanne Curry
Bad Parents Movie Publicist
JerseyGirlPR
suzannecurry(at)hotmail.com
201-264-7349
or
Caytha Jentis
Producer/Writer/Director, Bad Parents
President, Fox Meadow Films
Caytha(at)foxmeadowfilms.com