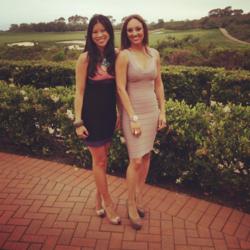 Think of us as the Generation X answer to the Generation Y chicks on "Girls."
Los Angeles, CA (PRWEB) January 16, 2013
Two successful Los Angeles based attorneys launch new lifestyle website for other fashion-savvy women that juggle children and demanding careers. Co-Founder, Rahsaana Allen, Managing Attorney of law firm, Nella Law Group, APC and Co-Founder, Natasha Shum-Walton, Senior Counsel at HBO, recognized a void in the bloggesphere for other career professional moms that also follow entertainment and fashion news.
The website, http://www.2hautechicks.com, will address topics such as traveling with young children, time-saving tips to get to the office looking great, product reviews, and how to stay professional but maintain your sense of style. The founders share a lot of their own personal experiences, and offer insights into what they learned from their mistakes and what really works. Rahsaana offered, "I found myself reading a lot of the fashion blogs written by these young and single 20 year-olds, needing to modify everything for my stage in life. I might love the pointy 2-toned nails on Rhianna, but I can't walk into a business meeting like that and command respect in the boardroom." The idea for the company was born as a 30-something's answer to those younger types of blogs.
"Think of us as the Generation X answer to the Generation Y chicks on "Girls." We are older (just a tad), wiser (infinitely so) and much more fashion forward (thank God!)", commented Natasha.
If Working Moms magazine and Rachel Zoe had twins, it would be 2hautechicks.com. The founders expect the website to resonate with many women and will be launching special product offers for their followers in 2013. "We are so excited about our new website and look forward to connecting with other women out there like us."
Headquartered in Los Angeles, CA.