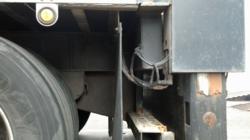 We have the capacity to schedule our trucks and crews around the special needs of our clients.
(PRWEB) January 17, 2013
Schneider's Denver based trucks have special needs. They make deliveries that require lift gates on each trailer and the gates have to be let down to get the back of the trailers clean. While lift gates work fine most of the time, Denver's winter weather can be hard on them. The dirty snow and ice that gets thrown back from the tires can get stuck in the tracks and joints and cause jamming.
One of Schneider National's main concerns is making sure the underside of the trailers are cleaned to remove the mag chloride used on Colorado's roads. Colorado's Department of Transportation (CDOT) uses magnesium chloride on the highways to melt ice and snow. If not removed on a consistent basis, the mag chloride can eat into wiring and connections and prevent the lift gates from working.
The other big problem is Schneider's Denver location does not have access to water. They have about 50 tractors and trailers to be washed and one pressure washing truck doesn't carry enough water to wash all the units, especially in the winter when they're extra dirty. They needed a wash company that could send more than one truck to get their fleet cleaned at a time that fit their needs.
"We have the capacity to schedule our trucks and crews around the special needs of our clients," said Joel Shorey, President of Wash On Wheels. "They can't have their trucks sitting around waiting to be cleaned. Being able to get the job done when they need it done is one of the biggest reasons our clients call us."
With 27 years experience in Denver, Wash On Wheels knows how to deal with Colorado's winter conditions. They specialize in EPA water recovery and include it with their power washing service at no extra charge.
Wash On Wheels is Colorado's largest mobile pressure washing company. In business since 1985, they have an A+ rating with the Denver/Boulder BBB. The company's services include pressure washing commercial buildings, sidewalks, parking garages, restaurants, and graffiti removal. Their services also include car washing for auto dealers, fleet truck washing, boat cleaning and interior and exterior detailing. They specialize in emergency grease and oil spill cleanups. Wash On Wheels services the Denver metro area and Front Range Colorado. For more information, contact Joel Shorey at 303-937-7181 or visit http://www.washonwheels.net.