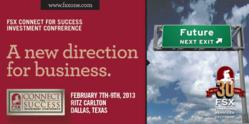 Dallas, Texas (PRWEB) January 16, 2013
FSX, the premier investment conference organization in the United States, has announced some of the benefits for the companies presenting at their next Investment Conference to be held in Dallas, Texas from February 7-9th, 2013.
FSX holds investment conferences four times a year in a different major U.S city where Emerging Growth companies connect with a nationwide network of financial investment professionals. FSX brings the CEOs and other Executive Officers of the Presenting Companies together with the Principals and key decision makers of the Broker/Dealers and other financial firms. FSX provides a forum where Presenting Company CEOs seeking capital and/or market support can go to showcase their companies in a dedicated environment that is conducive to networking and building financial relationships. Billions of dollars have been raised for companies at FSX Investment Conferences to date.
Judy Ensweiler, FSX Executive director of FSX, outlined the many benefits companies receive when they register to present at an FSX Investment Conference such as:

Single Track System allowing companies to have a captive audience of investors
Networking Opportunities with funding sources
One on Ones with buy side groups
Post conference follow-up
Locked-in presentation rate for one year
NEW Media - Exclusive CEO Interviews hosted and promoted on FSXInterlinkedTV web channel
NEW Exposure - Exclusive Video Press releases, SEO and calls to action driving traffic to your CEO Interview
NEW IDeal Room- Exclusive online platform to help streamline the process of DD for companies and Investors
NEW IROCKET Options- IR Automation, PR Automation, Capital Automation
Easy online registration
& much more
"FSX is no longer just a conference company it's a powerful system that goes well beyond the walls of the conference. Judy Ensweiler has put together the perfect set of services at the price companies can afford. It's no wonder why FSX has been in business for 30 years and is still growing." said Delray Wannemacher CEO of Interlinked
"Our last event was sold out shortly after opening registration. If you have not registered you still have the opportunity to do so." said Ensweiler.
About FSX & InterlinkedTV
FSX is one of the most reputable and established national alliances in the country for the independent broker/dealer network, providing education and opportunity. At each FSX conference, we bring the CEOs and executive officers of the presenting companies together with the principals and key decision makers.
InterlinkedTV is an internet video production and distribution site dedicated to Entrepreneurs and Investors. We feature education, public and private companies, venture capital news, and investment events. This content is exclusive and cannot be found anywhere else. We give our members and viewers a unique chance to meet the CEOs and executives of high growth