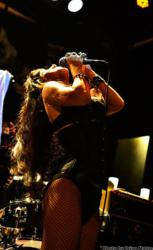 " I live to experience music of this caliber.," says Trystan MacDonald in Lithium Magazine, "Vajra's musical career is just the beginning, and I have a feeling that their future work will be awe-inspiring."
New York. NY (PRWEB) January 16, 2013
In their first year, Vajra, NYC-based east Indian/rock fused band, has boldly pushed boundaries into the intrepid waters of the music world and has proved to be a band that is on the move.
Annamaria Pinna, Vajra creator and vocalist, states, "We had an awesome debut beginning in November 2011, playing our first show at The Bowery Electric with only 3 rehearsals. I was nervous, performing for the first time and sharing a piece of my soul with the world and had no idea what to expect. Surprisingly, we sold-out that night and have been crazy busy ever since."
Indeed Vajra has been lapping one success after another. Their debut album, Pleroma has received positive chatter from magazines and music blogs in Spain, Germany, Japan, and around the world.
Pete the RingMaster from The RingMaster Review (UK) describes Pleroma as "…an album…of aural majesty, a beautifully crafted and emotively driven piece of wonder,..[and a]… stunning introduction to the world. The album simply blew everything imagined away."
Recognition of Vajra's mass appeal came initially when Virgin America selected their single "Erode The Will" for their In-Flight Entertainment Series in December, 2011, and the single was also selected for both the Red Gorilla SXSW 2012 Compilation and the Go Girls Music Festival 2012 Compilation.
Vajra's success continued when their single "Inside The Flame" was selected and featured on the Gothic Magazine Music Compilation Part LVI with bands like Amanda Palmer and And They Will Know Us By The Trail of The Dead.
Vajra has played to sold-out audiences at: The Bowery Ballroom (NYC), The Mercury Lounge (NYC), as well as The Bowery Electric (NYC). The band performed 2 shows at SXSW 2012 and completed a successful West Coast tour performing at Sylvia Massy's 4&20 Blackbird Music Festival, in San Francisco and The Roxy in Los Angeles.
Their music was played at over 180 terrestrial radio stations nationwide and an additional 100 podcast and internet radio stations.
Vajra was selected as a Supercuts Rock The Cut Music Ambassador.
And that's not all, Vajra has even invaded TVland. The band signed licensing deals with The Discovery Network, MTV, Showtime and Bravo.
According to Metafork from The Signal Magazine, "…There is a heap of talent and passion in this unit, thanks to some great mixing, astounding song writing and musicianship…"
" I live to experience music of this caliber.," says Trystan MacDonald in Lithium Magazine, "Vajra's musical career is just the beginning, and I have a feeling that their future work will be awe-inspiring."
If you think 2012 was a successful year for Vajra, open your eyes and ears in 2013. Vajra's star is definitely on the rise.
Vajra's Links:
Facebook at: http://www.facebook.com/vajratemple
Youtube: http://www.youtube.com/vajratemple
Twitter: http://www.twitter.com/vajratemple