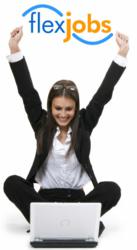 Boulder, CO (PRWEB) January 16, 2013
Sara Sutton Fell, CEO of FlexJobs, and Lindsey Pollack, LinkedIn Global Spokesperson, will be providing a live free webinar on how job seekers can maximize their use of LinkedIn, the largest platform available for professional networking on the web, to land a job.
"FlexJobs is always looking for new ways to help give job seekers an edge when it comes to the competitive employment search," shared Sara Sutton Fell, CEO of the flexible job listing site. "It's an honor to work with Lindsey Pollack and have her share her value added knowledge and tips on using LinkedIn."
During the 45 minute discussion that will take place on Tuesday, January 22, 2013 at 2 p.m. Eastern, topics covered will include:

How to get started on LinkedIn
Do's and Don't's for networking on LinkedIn
Special features to take advantage of
New and interesting ways to use LinkedIn
LinkedIn's mission is to connect the world's professionals to make their careers more productive and successful, and it operates the world's largest online professional network, with members in in over 200 countries and territories. FlexJobs helps job seekers find telecommute, part-time and other flexible positions. With both Fell and Pollack teaming up, people who attend the webinar can expect an informative presentation on creative ways to network and find employment.
Open to the public, registration to the free webinar is on first come, first served basis. Attendees do not have to have a LinkedIn account to join.
To register for the Free Webinar, visit: https://attendee.gotowebinar.com/register/4521504422192578560
For media inquiries, please contact Chelsea Gladden, Chelsea(at)flexjobs(dot)com or 1-866-991-9222 x 4.
About FlexJobs
FlexJobs is the leading online service for hand-screened and professional flexible, part-time, telecommuting, and freelance job listings. FlexJobs gives job seekers an ad-free way to find legitimate jobs quickly, easily, and safely. A proud member of the Better Business Bureau, FlexJobs skilled research team provides quality job leads in over 50 career categories, ranging from entry-level to executive, freelance to full-time. FlexJobs is a green, carbon-balanced company which is leading the way to the future of work by promoting telecommuting and flexible jobs that allow people to enjoy work and life in environmentally sustainable ways.
To find out more about FlexJobs, visit http://www.FlexJobs.com.
About Lindsey Pollack
Lindsey Pollak is a bestselling author, corporate consultant, keynote speaker and recognized expert on next generation career and workplace trends. She is a Global Spokesperson for LinkedIn, the largest platform available for professional networking on the web, and the author of Getting from College to Career: Your Essential Guide to Succeeding in the Real World.
To learn more, visit: http://www.lindseypollak.com/about