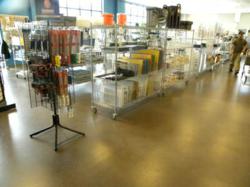 Golden, Colorado (PRWEB) January 16, 2013
HP Spartacote is pleased to announce the launch of a new clear version of its' popular Aqua-Flex WB/FC™ waterborne primer. This recently developed product compliments the existing pigmented Aqua-Flex™ product line by establishing a new array of decorative and protective floor coating systems.
Specifically, this material is designed to be used as an indoor O-VOC, Odor-Free primer over stained or other decorative concrete applications. Aqua-Flex WB/FC™ primer dries within 2-hours at which point it may be immediately top-coated with UV stable Sparta-Flex™ PURE Clear polyaspartic coating, creating a highly functional and aesthetically appealing flooring solution. Aqua-Flex WB/FC™ Clear may also be used in multi-broadcast quartz/chip flooring applications requiring no odor. Its rapid cure schedule helps to limit downtime and save money.
HP Spartacote is known for their floor coating systems because the surfaces are completely impermeable to liquids, oil and dirt making them relatively easy to maintain. They do not require waxing and can be kept clean with environmentally friendly PH neutral cleaners and water. This is ideal for new construction or rejuvenation projects because of the ease of maintenance and long lasting durability.
HP Spartacote offers a number of commercial flooring options to suit the needs of any commercial construction project. With all of the materials designed for one day construction, customers will be walking in the very next day. To learn more please check out the Aquaflex™ product page on our website or our systems page to learn more about our line of "PURE" odor-free indoor polyaspartic coating systems.
###